Gator Base is a foam base product that has been engineered and designed specifically for pedestrian paver installations. The panels are lightweight and incredibly easy to move around and work with. In this blog post, we're going to outline, step-by-step, what a typical Gator Base installation involves.
1. Excavation
Gator Base eliminates the need for the typical six inches of compacted crushed stone that would be used in a traditional paver installation. In a Gator Base installation, you only need to excavate about four inches down instead of nine to ten inches for a traditional base.
To calculate the exact amount of excavation needed, here are the numbers you'll need to add together:
Thickness of geofabric (i.e. Gator Fabric)
Compacted bedding sand's final height (about a ½ inch)
Gator Base (¾ inch)
Paver height
Make sure your excavation goes out another six inches past the footprint of the paved area. And since the six inches of crushed stone has been removed, the excavation should address the majority of any pitch issues. 
2. Level & Compact Sub-grade 
First, level the area with a soil rake. Ensure there's a slope of at least one degree away from any structure, such as a house.
Next, you'll want to compact the native soil with a plate compactor. Make the area as smooth as possible to get rid of high or low spots within about ⅜ inches.
If you over excavate or have any grade changes that need correction, you must do that with crushed stone … don't try to reuse any of the soil you just excavated!
For more tips on compacting, read our 5 Expert Tips For Compacting Native Soil
3. Lay Gator Fabric & Prepare Bedding Sand
Now it's time to lay some fabric down. We'd recommend using our non-woven 4.4 Gator Fabric. (You can read more about it here.)
When installing the Gator Fabric 4.4, be sure to overlap the edges by six inches and start your fabric at the lowest point of the slope. You'll also want to extend the fabric several inches past the edges of the excavated area and up any walls or curbs.
After the fabric has been placed, you can begin install the bedding course. To do this, spread an even layer of C33 concrete sand to a depth of ¾ inch over the fabric.
To obtain a perfect ¾ inch bedding layer, use ¾ inch iron pipes and place them an equal distance of four to six feet apart over the Gator Fabric; then fill the area with sand. Spread an even layer of C33 concrete sand equal to the pipe. Using a straight board, level the bedding sand relative to the pipes. After removing the pipes, be sure to fill in the empty gaps.
Leveling and compacting the bedding sand will be the last step prior to installing the Gator Base. The bedding course needs to have sufficient moisture content in order to obtain maximum compaction. Water lubricates the particles and helps them slide into place when the vibratory plate passes to obtain maximum compaction.
4. Install Gator Base
Place the Gator Base panels on top of the compacted bedding course. Make sure that the Gator faces on each panel are lined up in the same orientation; this will ensure that they lock in properly. You also want to ensure all panels are being used in the same orientation (either horizontal or vertical).
Always work off the open joint of the tongue and groove system. To do this, work from right to left when placing the Gator Base panels. Offset the joints of the panels (similar to a brick pattern) to increase the overall strength of the project.
5. Install pavers
Once the Gator Base panels are installed, you can lay your pavers directly on top of them according to your selected pattern. Use a rubber mallet to adjust the pavers as needed.
Make sure the Gator base is six inches wider on each side of the paved surface.
After the pavers are in place, install the Gator Edge, making sure it rests firmly against the pavers. A Gator Screw should be driven into every second hole to maximize lateral support of the edging.
6. Install Gator Maxx G2 Polymeric Sand 
You're almost done! The final step in the process is filling in your paver joints with our G2 Gator Maxx polymeric sand. For details on this process, click here!
Curious how Gator Base holds up in freeze/thaw climates? Be sure to download our case study!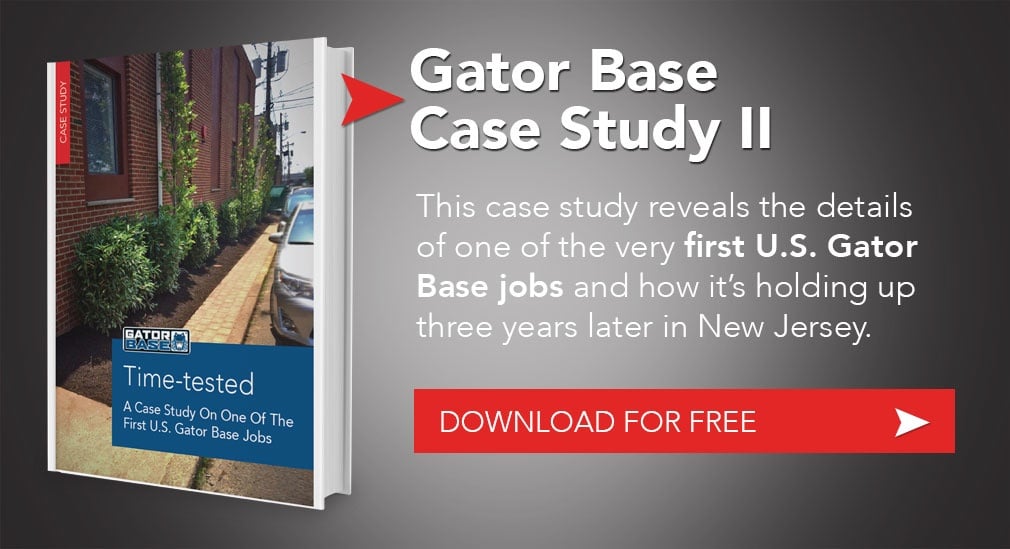 Stoneyard Panel Thin Veneer product samples are available as: Flat, loose individual pieces to see shape, texture and color. Add one or more to your cart and then proceed to checkout to order samples.
Read More »