STONEYARD® Authorized Dealer
At Stoneyard.com, we pride ourselves in crafting all natural, REAL Thin Stone Veneer from materials native to New England. As one of our partners, you will be equipped with all of the tools you will need to reach your customers.
What is the Stocking Dealer Program?
The Stocking Dealer Program is a unique opportunity designed specifically for building material resellers who are interested in broadening their product portfolio with Stoneyard.com's premium, American-made natural stone veneer.
As a Stocking Dealer, you will have the exclusive advantage of displaying Stoneyard.com Natural Stone Veneer in your retail outlet and purchasing products in bulk quantities at highly competitive prices.
This program not only enables you to meet local consumer needs but also boosts your business reputation by offering an in-demand natural stone product.
As part of our dealer network, we invite you to apply for trade credit terms that provide 30-day net pay. This translates into greater flexibility and financial comfort for your operations.
To discover more about how becoming a Stocking Dealer can benefit your business or to apply, please contact us at 978.742.9800 x5 or complete the form provided below.
Benefits of Becoming A Stocking Dealer:
Access to high-quality, USA-produced natural stone veneer
Exclusive rights to showcase Stone Veneer in your showroom
Ability to order products in full truckload quantities at unbeatable prices
Opportunity to cater directly to local consumer demands
Enhances business value by stocking sought-after natural stone products
Eligibility for trade credit terms with 30-day net pay option providing financial flexibility
Increased market visibility as part of Stoneyard.com's dealer network
Premier Dealer Badge
If you are a Stoneyard Premier Dealer, you can download the Stoneyard Premier Dealer badge and display it on your website and link to your dedicated page on the Stoneyard Dealer Locator.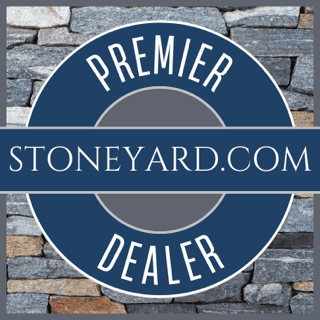 Download Stoneyard Premier Dealer Badge
Showroom Point-of-Sale Displays
There are many easy and affordable display options available to Stoneyard.com dealers that showcase our Natural Stone Veneer. We will work with you to create the perfect setup for your location.
This is perfect for dealers who deal with architects and designers. It is filled with pictures and specification information that is needed to get New England Stone Veneer specified on upcoming projects. Request your copy on the Dealer Request form.
Download Application for Credit

Download Literature