Keep in Touch with Stoneyard®
Join our email list to stay on top of the latest information, events, project features, and learn important natural stone tips. Emails go out weekly with amazing photos and videos. You don't want to miss it!
Take a look at some of our past posts...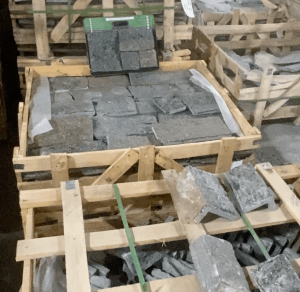 Stoneyard Harbor Peak Square & Rectangular Natural Stone Thin Veneer Product Overview. Available in Flats & Corners.
Read More »
Natural Stone Paver Pattern using multiple sizes of stone for Granite, Bluestone, Sandstone or Travertine large format paving stones.
Read More »
Natural Stone Custom Fabrication David Croteau explains how a 2 inch thick piece of bluestone can be Gauged to a thickness of 1.25 inches using a Park bridge saw with a diamond tipped stone cutting saw blade. Stone Pub Table
Read More »
Limestone Stacked Stone Thin Veneer. Natural Stone flats and corners with brown, gray and silver color range.
Read More »
Natural Stone Fabrication Cut to Size red granite slab cut into cobblestone pieces 4x4x2 inch with a thermal top. Red Jonesboro granite or Texas Rose ( this was a perfect match) existing walkway was cut 20 years ago. We found a perfect match, on a hundred acre property that we save relics on. A 7
Read More »
Stoneyard Custom Cut Natural Stone Pub Table made from large Quartzite and Granite boulder. Polished top and honed bottom. Made for wine cellar tasting room.
Read More »
Natural Stone Thin Veneer Nantucket Precision Cut sawn joints with 2, 3, and 5 inch heights for dry stack look.
Read More »