Is All Stone Veneer Faux Stone?
In a word, no. Faux stone veneer is cement, natural stone veneer is real stone.
Natural Stone Veneer
Natural stone veneer is cut or split from real stone that has formed over thousands of years, as in the case of round or flat New England fieldstone found in abandoned stone walls throughout New England, or gathered from surface stone quarries or farms and fields. These natural stones are the result of pressure during the formation of the earth and ensuing ice ages, resulting in glacial till that is now fieldstone.
Natural stone veneer is referred to as Harsh Climate Approved® building material.
Stone veneers are used for exterior house siding and interior walls, stone walls, columns, to reface brick fireplaces and anywhere stone is applied to a vertical subsurface, whether the stone is faux or natural.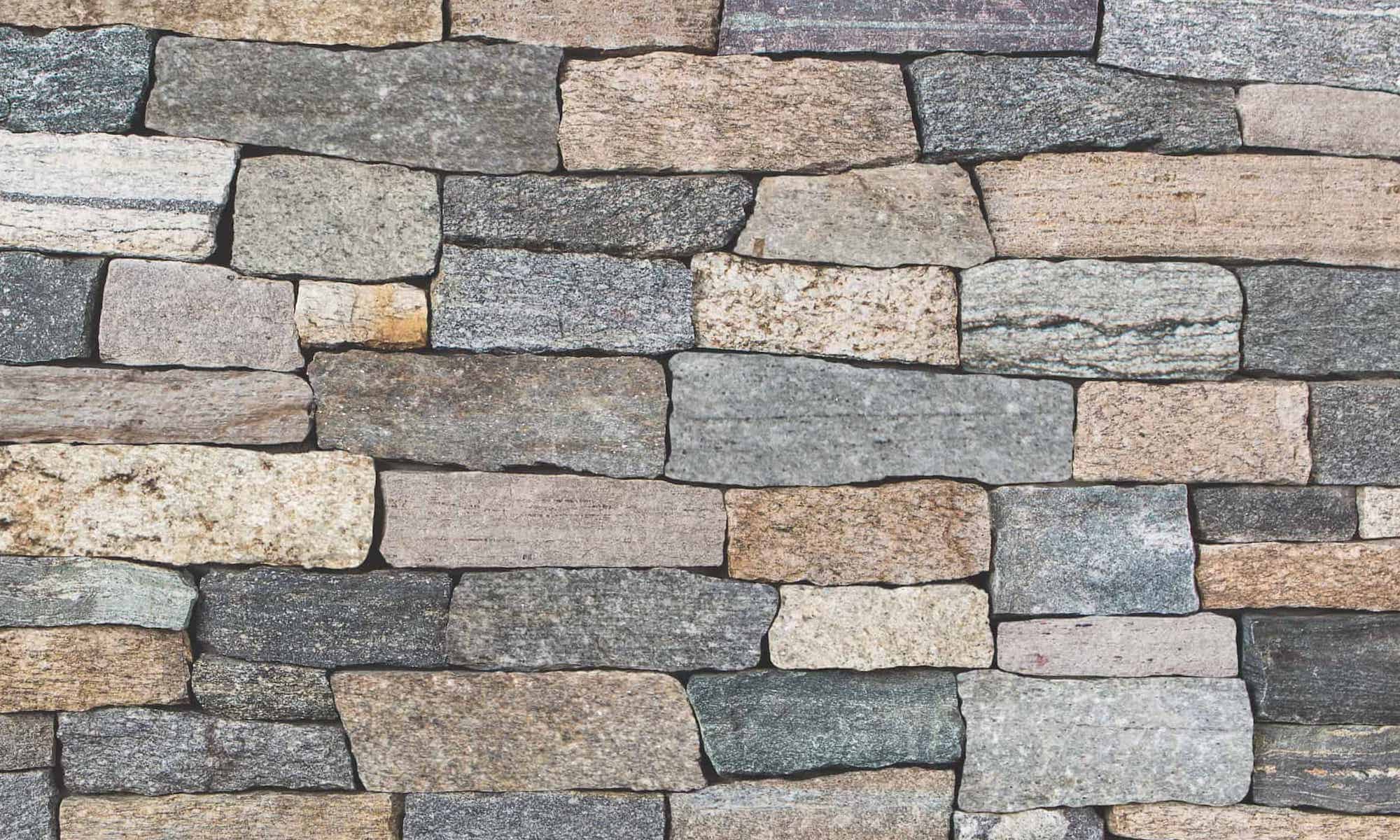 Natural Stone Veneer (Stoneyard Boston Blend Ledge)
Man-Made Versus The Real Thing

Faux and Natural Veneer

Photo by Courtesy of Eldorado Stone

"At first glance, it's not easy to spot the impostor in the pictures above. (Hint: Look at the one on the left.) But there are a few key differences between cast stone and its natural-born relative. Artificial stone is less expensive, significantly lighter, and quicker to install. But one good bump can reveal its weakness and spoil the facade. To be safe, keep a few extra pieces of veneer handy in the basement. Natural stone is simply that—rock that has been cut into a veneer ¾ inch to 1¼ inches thick and has all the shading, color, and flaws that come with eons of geologic pressure. It's more durable and more versatile, but it also costs more to purchase and takes longer to install."

– All About Stone Veneer, This Old House

Shown: Santa Cruz Coastal Ledge (left), $6-$8 per square foot; eldoradostone.com. Boston Blend Ashlar (right), $20 per square foot; stoneyard.com.
Faux Stone Veneer
Faux stone is manufactured in quantity by mixing cement with stone aggregates and coloring to resemble natural stone or to create a stone veneer that does not appear in nature.
Cement is poured into different shape molds to create stones that resemble mosaic (broken ice), squares, rectangles, rounds, and stacked stones.
These pieces of cement are roughly 1″ thick and often have color applied to the outside of the cement to resemble different types of natural stone. In a single package of faux stone there will be duplicates.
Since making faux stone is a manufacturing process using rubber molds, casual inspection will reveal duplicate pieces in the project. When using natural stone, no two pieces are or could be exactly alike.
There are advantages and disadvantages to faux stone veneer. It is made from porous cement and is lighter than natural stone. Faux stone can appear to be real stone from a distance, but on closer examination the difference becomes obvious (see sidebar).
Disadvantages of faux stone veneer include no ability to trim stones as each stone is made from a cement cast, then painted and it is very obvious when it is chipped.
Faux stone veneer is often found in commercial spaces such as office buildings, restaurants, roadways, bridges, hotels, industrial buildings, medical facilities, and other large scale commercial sites.
Cost
Today, faux stone and natural stone are often comparable in price. The primary reason for choosing manufactured stone veneers vs natural stone veneer used to be price. As faux stone manufacturer Centurion states, "A high-quality faux stone can cost more than some types of (natural) veneer, depending on how it is made." Even though natural stone weighs more than faux stone, transportation costs are similar due to both being of equal size.
Installation
The cost of installation may be less for faux stone, which stonemasons will tell you is faster to install. It may be an easier option for a DIY project. However, a stonemason's primary skill is installing natural stone, and the artistry of doing so varies greatly.
Here are two tips about selecting a stonemason. The two most important points in the selection process are:
1. Ask to see photos of similar stone work they have completed.
2. After choosing your stonemason, have them create a small mockup using the natural stone veneer you have selected, especially for exterior siding, chimney, foundation, or outdoor kitchen.
Both faux stone and natural stone must be adhered to a structural wall over a layer of cement board. Both can be directly applied on a vertical brick surface, such as a chimney or house façade.
Durability
For interior applications, both faux stone and natural stone building products are similar in durability, except when chipped. Faux stone will reveal its cement center if the outside color is chipped off. Natural stone is the same color throughout and will last for decades. If color is important for you, natural stone should be your first choice.
For exterior applications such as exterior siding or cladding, the major difference in durability is when the stone is subject to wind, rain, sleet, snow and wide temperature ranges. Faux stone is known to fade after many seasons of direct sun. The stone is tinted with pigments and colors, and unlike your house, cannot be repainted when it fades. Natural stone has already been through thousands if not millions of years of seasons and will remain the same as the day it was installed.
Summary
Stone veneer is a term that refers to both faux stone and real stone. Faux stone is manufactured stone veneer, real stone is natural stone veneer. Both are comparable in price. A package of faux stone veneer will include duplicates since it is a process involving molds. Natural stone veneer will have stones that are similar in color and grain but no two alike. Hiring a professional to install stone veneer is recommended. Faux stone may fade in direct sunlight, natural stone will remain the same color, even in harsh conditions.
---
---
1. Natural stone is a green material.

Natural stone's inherent characteristics make it Mother Nature's original green building product. It can be used without any additional finishes or wall coverings, has low maintenance needs, and is highly durable—and recyclable. Unlike the many cladding materials available on the market requiring extensive manufacturing energy, natural stone is extracted from the earth and processed by cutting and finishing.

Read more at

UseNaturalStone.org
Choose the stone veneer that meets your needs.