See and Talk About Your Options With A Stone Expert
Discover all of your stone options and ask questions relating to your project with a Stoneyard Virtual Visit, a cutting-edge solution designed to revolutionize your natural stone veneer selection process. By utilizing the latest tech, we aspire to bring our broad selection of products and knowledge right into your living space or workspace.
In this blog post, you will learn how scheduling a virtual visit with Stoneyard allows you to explore various natural stone veneer products in an immersive environment. Our experts are available to provide tailored advice and answer any queries you may have about your project, enabling you to efficiently compare product offerings and select the perfect natural stone veneer for your high-end home or architectural project with a Stoneyard Virtual Visit.
We will also discuss how comparing product offerings becomes more efficient through our virtual platform. Finally, experience the convenience and efficiency that comes with embracing this digital approach towards selecting the perfect natural stone veneer for your high-end home or architectural project through a Stoneyard Virtual Visit.
Schedule a Virtual Visit with Stoneyard
Discover the Benefits of a Live Video Call with a Stone Specialist.
Finding the time for in-person visits and consultations can be difficult in our busy lives. That's why Stoneyard offers virtual visits for mason contractors, architects, and people building high-end homes who are interested in our natural stone veneer siding products. By scheduling a live video call with one of our knowledgeable stone specialists, you'll enjoy numerous benefits that save both time and money.
The Advantages of Scheduling a Virtual Visit
Convenience: No need to travel or take time off work – simply schedule your virtual visit at your convenience from anywhere.
Ease of communication: Discuss your project needs directly with an expert without any distractions or background noise common during in-person showroom visits.
Focused attention: Our stone specialist will devote their full attention to answering all your questions and addressing any concerns about using natural stone veneer on your project.
Better decision-making: A virtual visit allows you to make informed decisions based on expert advice tailored specifically for your unique requirements.
Scheduling Your Virtual Visit is Easy.
To get started, follow these simple steps:
Contact us by phone at (800) 231-2200 or book a time on our contact page.
Select the date and time that works best for you from available slots in our calendar.
Submit your details regarding the type of stone veneer you're looking for and any queries or worries you may have.
At the scheduled time, join the video call using a computer, tablet, or smartphone with internet access. Our stone specialist will guide you through our showroom and provide personalized advice based on your project needs.
Scheduling a virtual visit with Stoneyard is an excellent way to explore natural stone veneer products for your next building project without leaving home. By connecting directly with one of our experts via live video call, you'll receive valuable insights that can help ensure success – all while saving time and money.
Key Takeaway: 
Stoneyard offers virtual visits for those interested in their natural stone veneer siding products. By scheduling a live video call with one of their knowledgeable stone specialists, customers can enjoy the convenience, ease of communication, focused attention and better decision-making that comes with it. Scheduling a virtual visit is easy – just contact them by phone or online form to select the date and time that works best for you.
Upgrade Your Space with Natural Stone Veneer
Transform your home or commercial building with the elegance and durability of natural stone veneer products from Stoneyard.
Stunning Styles and Colors
Find the perfect match for your design aesthetic with Stoneyard's wide range of styles, including Ledgestone, Square & Rectangle, and Thin Strips, available in an array of colors from warm earth tones to cool grays.
Eco-Friendly Options
Choose sustainability with Stoneyard's eco-friendly options, like our reclaimed thin stone veneers made from 100% recycled materials, contributing towards LEED certification points for green building projects.
Exceptional Quality and Durability
New England Craftsmanship: Our natural stone veneers are handcrafted by skilled artisans in New England using traditional techniques.
Durable Material: Natural stone is resistant to harsh weather conditions, fire damage, pests, and rotting, making it a long-lasting investment for your property.
Low Maintenance: Natural stone veneers require minimal maintenance, simply clean with water and a soft brush to maintain their pristine appearance.
Virtually Experience Our Showroom
Experience the texture, color variations and overall aesthetic of our natural stone veneer products with a virtual visit to our showroom – all from the comfort of your home or office.
To get started on your Stoneyard virtual visit experience, simply schedule an appointment online.
Get Expert Advice for Your Natural Stone Veneer Project
Choosing the perfect natural stone veneer for your project can be daunting, but Stoneyard's virtual visits make it easy to get the guidance you need from our experienced stone professionals.
Design Ideas Made Easy
Our team can offer suggestions based on their extensive experience with various projects, helping you find the perfect stone veneer to complement your desired aesthetic.
Solutions for Unique Challenges
Budget: We can suggest cost-effective alternatives without compromising quality or appearance.
Site Conditions: We'll advise on how different types of stone veneers perform in various environments and help determine the best choice based on factors like climate and exposure.
Sustainability: Ask about our eco-friendly products such as reclaimed stones or locally sourced materials.
Installation Techniques
Our team can provide guidance on the best methods for installing your chosen stone veneer, as well as recommend trusted mason contractors in your area who are experienced with our products.
Maintenance Made Simple
Don't hesitate to ask about maintenance requirements for different types of stones so you can make an informed decision that suits both your design preferences and lifestyle needs.
Incorporating Stoneyard's expertise into your project planning process through a virtual visit will help ensure that you select the perfect natural stone veneer product while addressing any challenges or concerns along the way.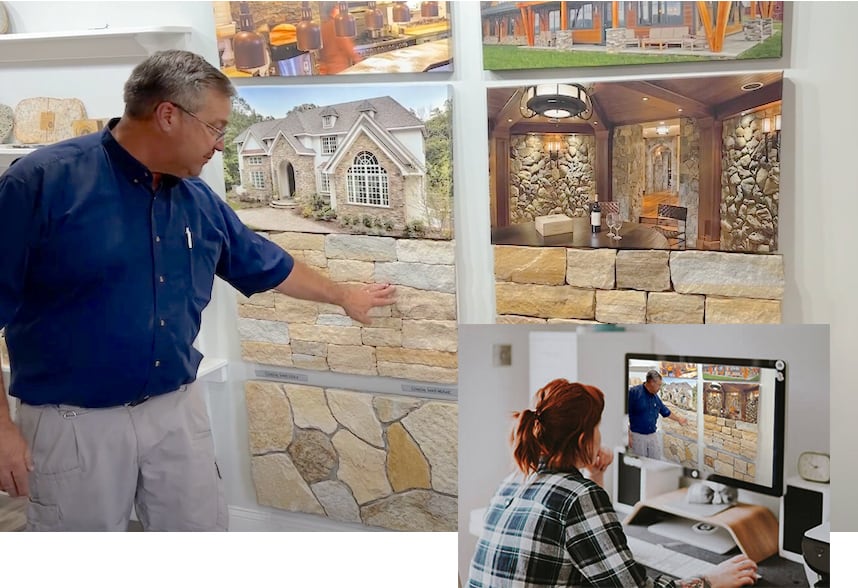 Compare Product Offerings
Wide Range of Stone Types and Colors
Stoneyard offers a broad array of quality natural stone veneers, with varieties such as granite, limestone, sandstone and more in an assortment of colors and textures to suit any architectural style.
Detailed Product Information
Durability: Learn how different types of stones hold up over time.
Maintenance Requirements: Discover what it takes to keep each stone looking its best.
Aesthetic Appeal: See how textures and finishes can create stunning visual effects.
Eco-Friendliness: Find out which materials are sourced sustainably or have lower environmental impacts.
During your virtual visit, Stoneyard provides detailed information about each product offering to help guide your decision-making process.
Samples Delivered Straight To Your Doorstep
If you're still unsure after the virtual visit, Stoneyard can send physical samples of their products straight to your doorstep, allowing you to see and feel the stones in person before making a final decision.
Customized Recommendations
Stoneyard's team listens carefully to your needs during the virtual visit and provides customized recommendations based on factors such as budget constraints, design goals, or local building codes, ensuring you'll be satisfied with both the appearance and performance of your chosen natural stone veneer.
Experience Convenience and Efficiency
Save time and money with Stoneyard's virtual visits.
In today's fast-paced world, time is of the essence, and Stoneyard's virtual visits offer an efficient way to explore natural stone veneer products and get expert advice tailored to your project needs.
The Benefits of Virtual Visits:
Convenience: Connect with our stone specialists from the comfort of your own home or office.
Saves Time: Gain access to valuable information about our product offerings without spending hours researching online or visiting multiple showrooms.
Cuts Costs: Eliminate unnecessary expenses such as gas money and potential accommodation costs associated with traveling long distances for in-person consultations.
Faster Decision-Making Process: Get all your questions answered by knowledgeable professionals during one call so that you can confidently move forward with your project plans sooner rather than later.
If efficiency is what you're after when it comes to selecting the perfect natural stone veneer siding for your next build, then look no further than Stoneyard's virtual visits.
By forgoing the need to travel, you can save time and money on your project costs.
Plus, getting personalized advice from industry experts ensures that every decision made throughout the process aligns with your unique vision and goals.
Ready to experience the convenience of a virtual visit? Schedule your live video call with one of our stone specialists today, and let us help you bring your dream project to life.
Are you a mason contractor, architect, or building a high-end home? Schedule a Stoneyard Virtual Visit to explore natural stone veneer products and compare offerings.
During your visit, ask questions about your project and experience convenience and efficiency.
The Stoneyard Virtual Visit is an opportunity to learn about natural stone veneers without leaving your home or office.
Discover the perfect natural stone veneer products for your next project with a hassle-free Stoneyard Virtual Visit.
Don't miss out on this chance to upgrade your project with the beauty and durability of natural stone veneers.
More posts
Contact us if you have questions about Stoneyard products