NATURAL STONE FROM NEW ENGLAND
New England Stone Thin Veneer by Stoneyard®
Love Natural Stone? We Do.
For people that love the look of New England natural stone, Stoneyard® Thin Veneer is the natural recycled stone that architects, builders and masons use to display real stone on vertical areas. Our best-selling Boston Blend™ Thin Veneer is a custom blend of stone shapes and colors found only in New England, delivered to locations throughout the U.S.
Thin Veneer Colors
Thin Veneer Shapes
Crafting Your Stone Formula
Our customers tend to be particular about their stone installation, which we've come to call your Stone Formula. Most customers choose one thin stone veneer, for example Boston Blend Mosaic, which is a mix of eight colors in broken ice shapes. Others will start with Boston Blend Ledgestone and add 10% of the mosaic shape or 10% more of one of the colors to create a blend that is more gray or more tan. Or they may use Boston Blend Mosaic on the exterior and matching Boston Blend Ashlar on the interior fireplace. Stoneyard offers enough choices and colors, and the flexibility to build whatever you, your contractor, builder, or architect can design in natural stone.
Which Stone Shape Do You Prefer? Explore Your Options!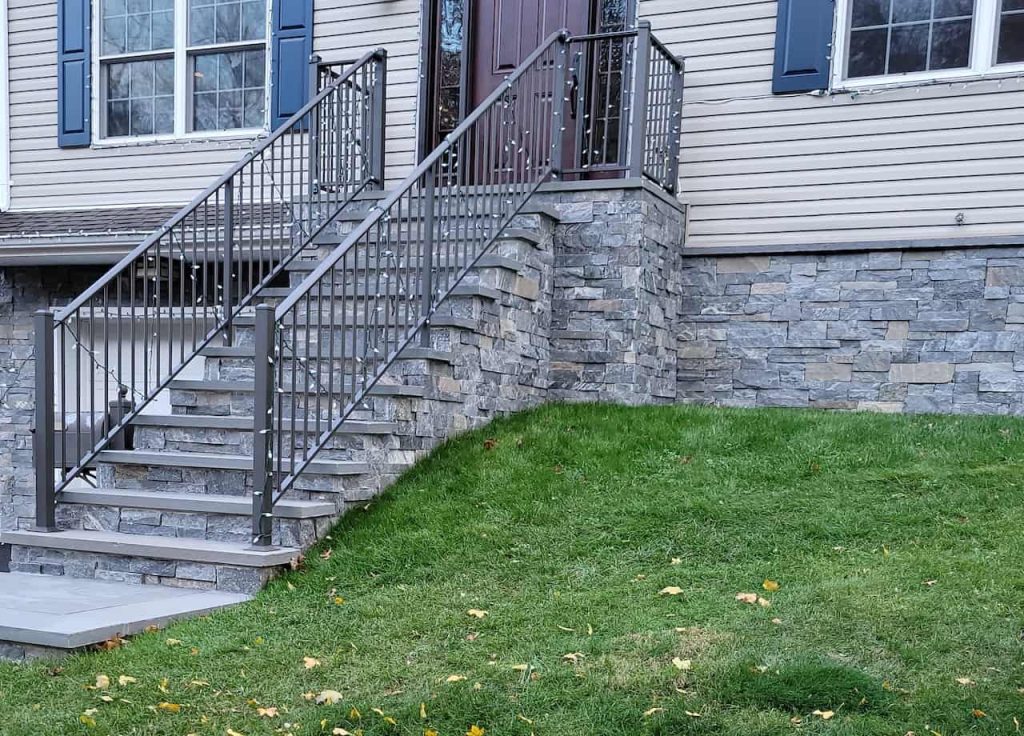 We Make Your Stone Project Come to Life
We encourage you to take advantage of our knowledge and knowhow after working with stone for the past 30 years. The natural thin veneer stone we cut, split or saw meets or exceeds industry standards specified for installation.
When you buy from Stoneyard, we ask the right questions so that you have enough material and the right kind of material, while making sure your order stays at the quoted price and gets delivered on or ahead of schedule.
Natural stone from New England and the Northeast is prized throughout the U.S. for its colors and harsh-climate durability. Stoneyard ships to job sites in the U.S. and Canada.
How can we help?
Immediate answers M-F 8 am – 4 pm ET
Help in selecting the right thin veneer and landscape stone
Pre-installation advice
A detailed quote for stone, mortar and delivery
Samples delivered to you
We provide fast, friendly customer service. Contact our New England based team.
"I have been working with Stoneyard Veneer for 15 years. It is my first recommendation to clients who are looking for exceptional stone product for their siding, foundation, chimney and landscape veneer needs. I also believe that I am able to convey what makes the product different. In my mind, it comes down to consistency of product, and the color palate which is unmatched by any other veneer manufacturer."
—Jamie Hanlon, Hanlon Stone Portland, ME

"Thank you for your recent assistance in helping me with my Mexican Beach Pebble order for a home/kitchen remodeling project. My application included building shadow boxes on top of a series of knee walls and and shadow boxes on a bar-top/counter top. The shadow box was painted and then lined with Mexican Beach Pebble. The shadow boxes were then covered with 1/4″ glass to create a very attractive and unique look in my newly remodeled kitchen. Everything worked out just great! Thanks for your product."
—Stoneyard customer

"Wait till you see this done!!! I am SO GLAD I found you guys!!!! I will be showing dozens of bankers, realtors, and builders at an open house here when we're done.  I will pitch your business to everyone that comes here! Thank you so much for a great product, amazing customer service, and a no bull approach to doing business. Much appreciated!!"
—Ryan Bessette