Stacked Stone Veneer
Stacked Stone Veneer is natural stone that is available in individual pieces and in panels. The stacked stone pattern consists of thin strips of natural stone with tight joints and either smooth top and bottom edges or natural edges. In both types there is no visible grout between the stones, although it is an option. View Fireplace projects with natural stone veneer.
Stacked Stone Veneer is a popular choice for homeowners and designers who want to add natural beauty and texture to their interior or exterior spaces. This type of veneer is made from thin strips of natural stone that are tightly stacked together, creating a stunning pattern with no visible grout lines.
Available in individual pieces or panels, Stacked Stone Veneer can be used for a variety of applications such as accent walls, fireplaces, backsplashes, and even outdoor landscaping features. The versatility of this material allows it to blend seamlessly with any design style – from rustic to modern.
One advantage of using Stacked Stone Veneer is its durability. Natural stone has been used in construction for centuries due to its strength and longevity. With proper installation and maintenance, you can create a Stacked Stone Fireplace with Natural Stone Veneer that can last for decades without losing its beauty or structural integrity.
Another benefit is the ease of installation compared to traditional masonry work. Panels come pre-assembled which means less time spent on labor-intensive tasks like cutting stones and laying them out one by one. This also translates into cost savings since less skilled labor is required.
In terms of aesthetics, there are two types of edges available: smooth top/bottom edges or natural edges depending on the desired look. Both options create an authentic appearance that mimics the look found in nature.
Overall, if you're looking for a way to enhance your home's curb appeal or add warmth and character indoors while staying within budget constraints then consider using Stacked Stone Veneer as part of your next fireplace surround renovation project!
Finished Projects
The best way to choose natural stone is to look at example of finished projects.
Using Stoneyard Cedar Falls Ledge Thin Veneer, Jago Protz of Londonderry Stoneworks in Vermont built this natural stone fireplace. This stone is ideal for those that want a clean looking ledgestone. Cedar Falls Stacked Stone Veneer is a thin strip style stacked stone comprised mostly of rectangular pieces with a few angled edges.
Stacked Stone Panels
Create professionally installed natural stone surfaces in a fraction of the time of traditional veneer systems. These natural stone panels interlock to hide the joints and create a seamless look. Corner pieces further ease the installation and provide the appearance of a natural stone masonry wall. Natural stone is set into mortar and each panel is shaped so they can be assembled quickly on any vertical masonry surface.
Cambridge Blend Panels and Individual Stones
Cambridge Blend consists of a wide range of colors including beige, white, gray, red, and more. Cambridge Ledgestone is available in panels and individual stones.
Greenfield Gray Panels
Greenfield Gray consists of dark gray, white, and black colors.
Natural Stacked Ledgestone Panels are trimmed pieces of real stone affixed together to form modular interlocking panels.
Interlocking stone panels allow for a fast and efficient installation of a beautiful dry stacked veneer. STONEYARD® Stone Veneer Panels are available in FULL FLAT and HALF FLAT Interlocking panels as well as matching CORNER Interlocking panels for 90 degree outside corners.
See How The Panels Interlock
Full Flats
Size: 23.5″ x 8″ x 1.25″
Packaging: 2.28 SF Bundle (2 pcs @ 1.14 SF each), 118 SF (52 bundles/104 pcs) per plt
Half Flats
Size: 23.5″ x 4″ x 1.25″
Packaging: 1.125 SF Bundle (2 pcs @ 0.5625 SF each), 59 SF (52 bundles/104 pcs) per plt
Corners
Size: 13.25″ / 7.25″ x 8″ x 1.25″
Packaging: 0.67 LF per pc, 34 LF (54 pcs) per plt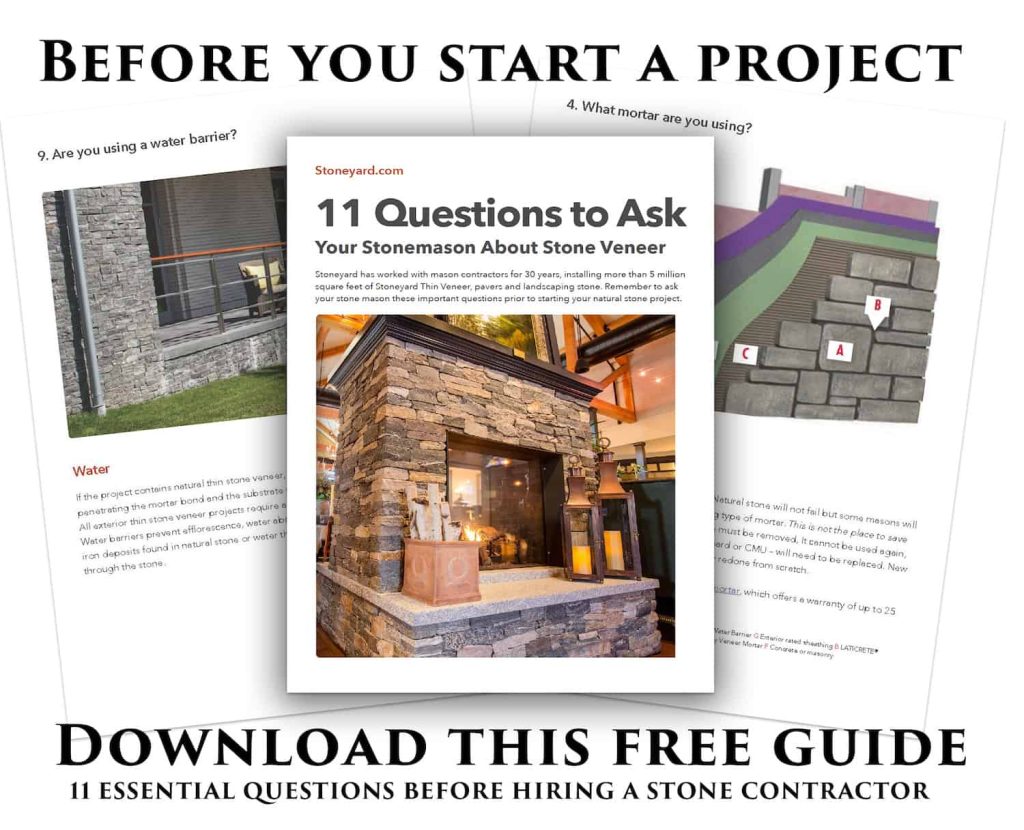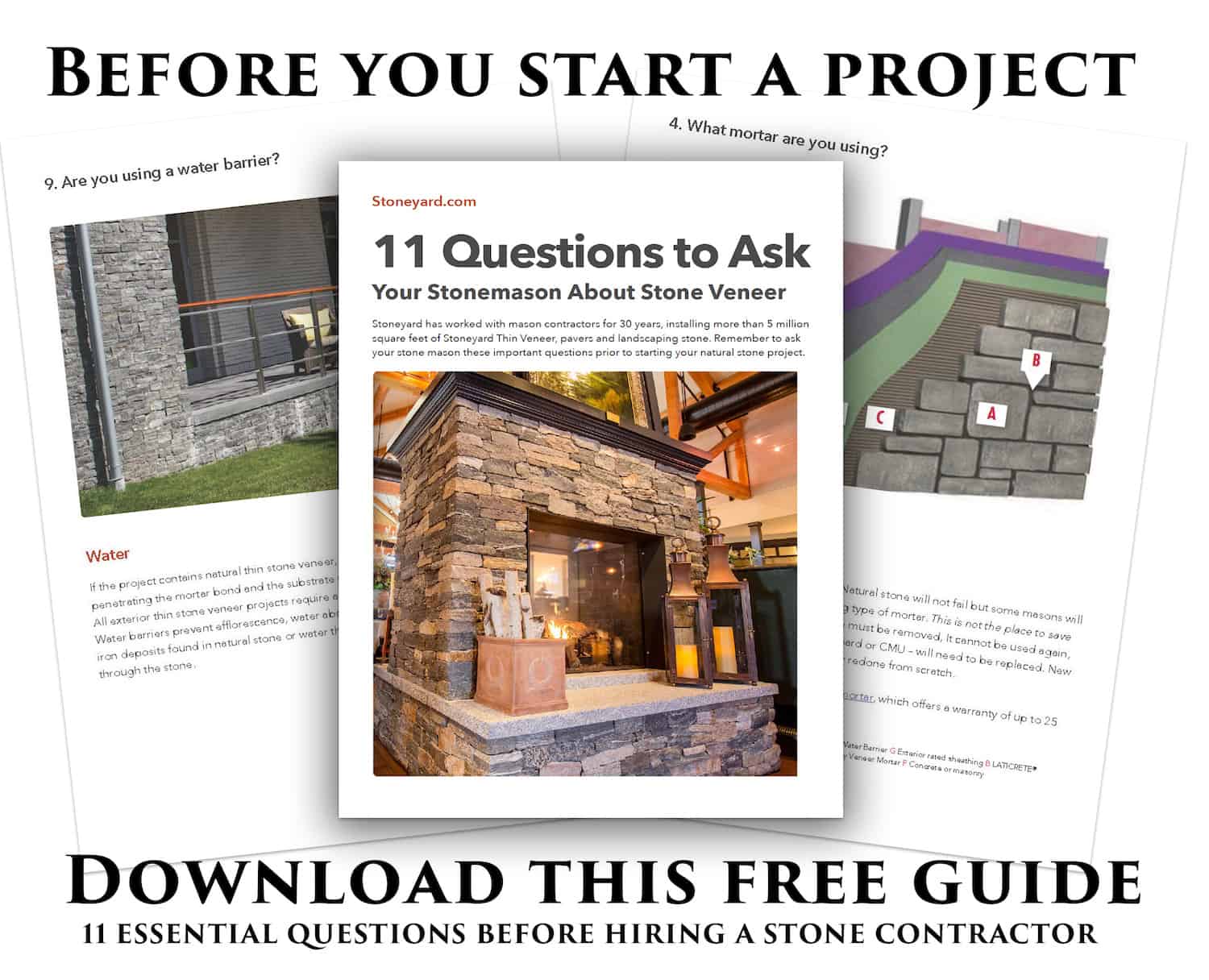 Natural Stone vs Faux Stone
Natural stone veneer is referred to as Harsh Climate Approved® building material. Faux stone veneer is cement, natural stone veneer is real stone.
Natural stone veneer is cut or split from real stone that has formed over thousands of years, as in the case of round or flat New England fieldstone found in abandoned stone walls throughout New England, or gathered from surface stone quarries or farms and fields. These natural stones are the result of pressure during the formation of the earth and ensuing ice ages, resulting in glacial till that is now fieldstone.
---
Natural thin stone veneer is a real stone that is easy to install. This is real natural stone, not man made. This is not manufactured stone veneer.
This real natural stone veneer is made from large pieces of New England fieldstone and other quarried natural stone that has been sorted, split and sawn into individual pieces of stone veneer that is 1 inch thick and weighs less than 14 lbs per square foot.
Flats and Corners are available for each of our colors and shapes.
Some of the uses of this stone veneer are siding, cladding, foundations, outdoor kitchens, hardscapes, fireplaces, chimneys and any other vertical surface. Enhance the beauty of any living space including residential and commercial applications.
Visit our local store in person or online to view these products and order samples for your next project.
This stone can be used outside or inside and is non load bearing and does not require a masonry shelf. Installation instructions and guides can be found here.
Contact Us
Fill out the form below and a STONEYARD® stone specialist will contact you. Call 978-742-9800 or Text / MMS / SMS 978-310-3008.
---
Thin Stone Veneer is available in Mosaic, Ledgestone, Ashlar, Square & Rectangular, Round and Stacked Stone shapes in both Flats and Corners. Read about Mortar Joint Options and How to Install Thin Stone Veneer.