Dry stacked stone veneer can add exceptional character to any building feature. From fireplaces to foundations and accent walls, this decor detail is versatile and easy to use. Delivering gorgeous design quality, dry stacked thin veneer may be the perfect aesthetic for your home.
What Is Dry Stacked Stone Veneer?
Traditional dry stacked stone veneer consists of fitting stones together in a precise manner without sealing them with visible mortar. Some grout may be used to secure heavy stones in place, but the mortar isn't a prominent part of the finished look. Unlike traditional dry stacked stone which is extremely heavy, dry stacked stone veneer panels are thin and lightweight for more versatile usage.
With an intentionally rugged appearance, dry stacked stone veneer achieves an amazing aesthetic that's rustic and stately. There aren't too many problems with it – it's both durable and aesthetically pleasing. Designers have used this unique building technique to enhance entryways, foundations, chimneys, fireplaces, and more – it really is a versatile option for adding character to any building! Plus, installation is easy when using thin, stone veneer.
Wondering how you can use dry stacked veneer stone to beautify your home or business? Use these examples as inspiration!
12 Examples of Beautiful Stacked Stone Veneer in Exterior and Interior Applications
1. Mitered Ledge Corners
With a gorgeous ledge design and variegated color, this dry stacked thin stone veneer is crafted in a precise way so that the mitered corners remain clean. This provides a striking look that can enhance any corner of the building – on the interior or exterior.
2. Accented Turrets
The rounded turrets on this European-style home are accentuated with gorgeous dry stacked stone veneer panels to emphasize the architectural detail and dial up the curb appeal. The advantage of working with thin stone veneer is that it can be installed around obstacles, like windows and doors, quite easily.
3. Boston Blend Color Palette
With hints of gray, white, tan, pink, and black found throughout the stones, this stone design feels fresh and modern, which is a great choice to pair with neutral exterior walls and flooring, like the beige and cream colors seen here.
4. Standalone Fireplace
Interior stone veneer is often used to embellish fireplaces. This particular design shows off the beauty of dark gray stones with beige highlights, which makes the standalone fireplace the clear focal point of the room.
5. Custom Pizza Oven
A traditional pizza oven gets a massive upgrade with this stylized design! The Ashlar stone veneer features rough rectangular shapes, and the natural grain of the gray stone adds exceptional beauty, to make time in the kitchen feel much more authentic.
6. Gray Stacked Stone Fireplace
Dry stacked stone adds comfort and sophistication to this room, which will quickly become a favorite gathering place. The gray stone creates rich contrast with the wood flooring, and the amber highlights in the natural grain make this combo mesh beautifully.
7. Natural Mosaic Shapes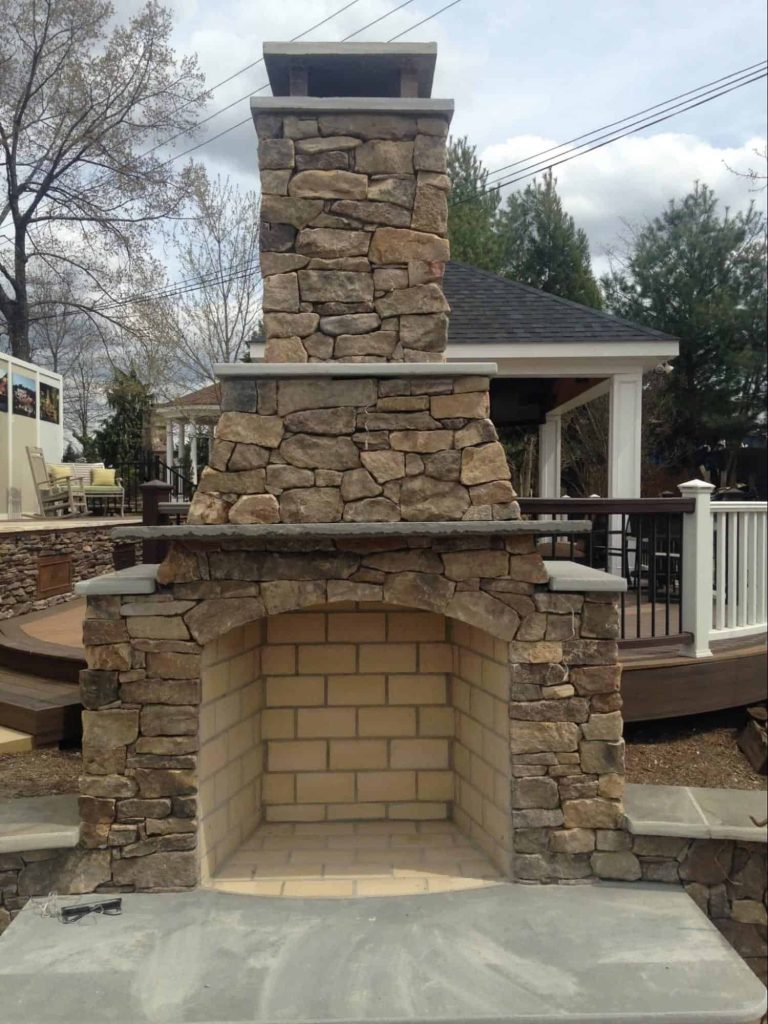 The irregular edges of these dry stacked stones are fitted together beautifully, so this outdoor fireplace feels like a natural piece of art. Notice how rectangular and square stones make up the foundation while the tapered top has softer shapes with rounded edges. This adds to the rustic ambiance and establishes a handcrafted aesthetic.
8. Dry Stacked Stone Veneer Exterior
Ledge has a naturally linear layout, since thin, horizontal strips of stone are primarily used for the design. Running parallel to the steps on the side wall of this structure, the stone veneer fits right in with its linear surroundings.
9. Shadow Lines and Texture
With a dynamic square and rectangular combo, stone veneer panels take this retaining wall from bland to embellished, by adding exceptional texture and color that contrasts with the landscaping. As the Sun shifts throughout the day, the dry stacked stone casts attractive shadow lines.
10. A Striking Interior Accent Wall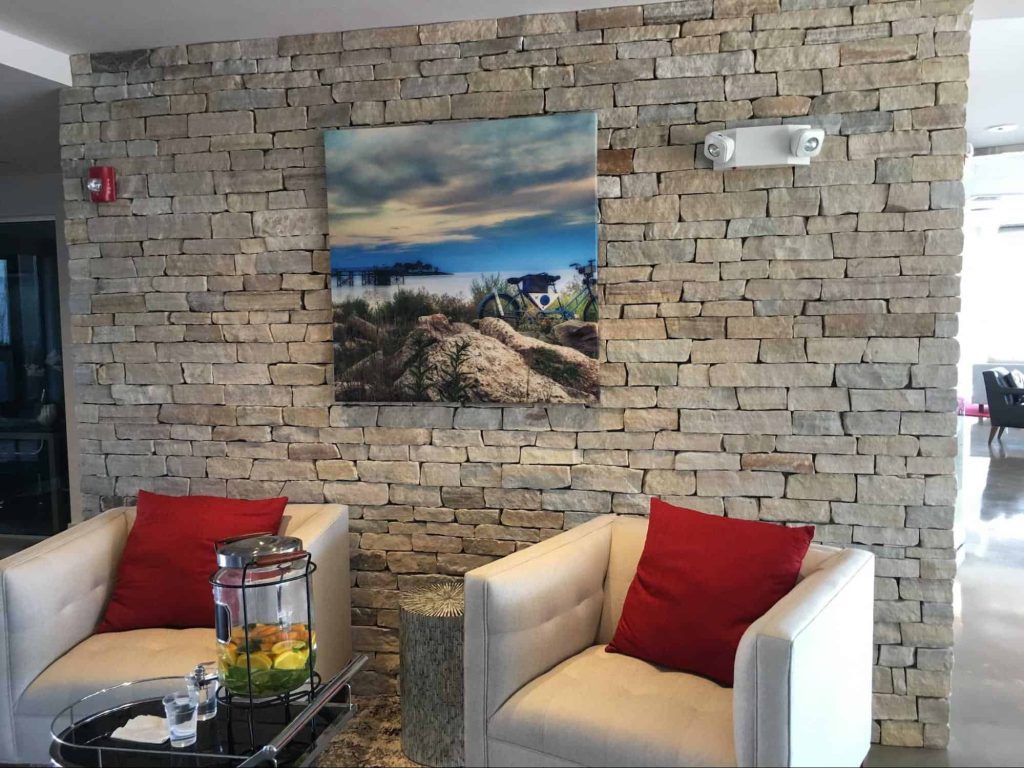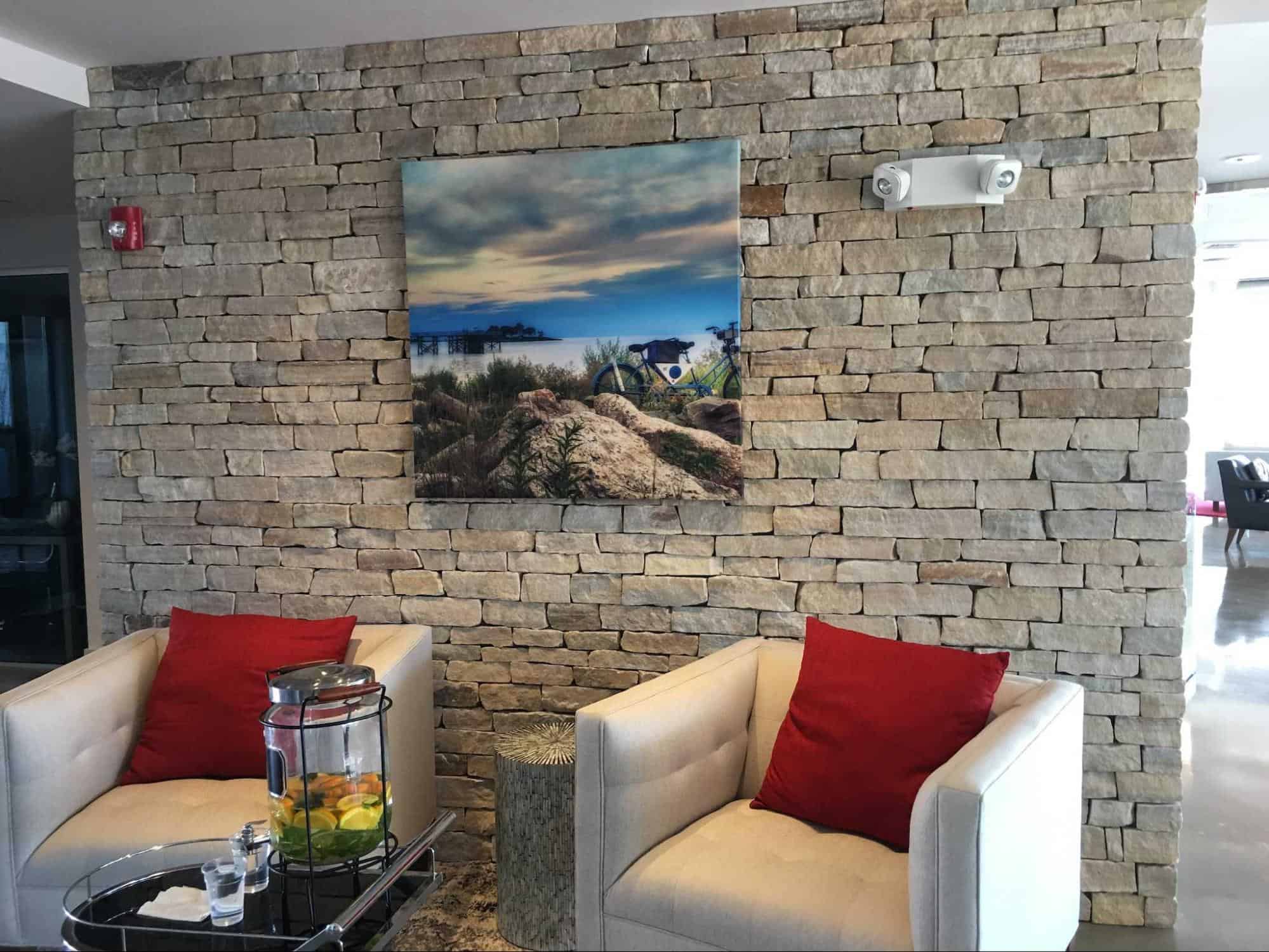 Accent walls can dramatically level up the interior design scheme, as seen in this example of dry stacked stone veneer panels used as a cozy backdrop. The ledge layout expresses amazing texture, so the surrounding furniture should be more subdued, which is why the smooth leather chairs and solid-colored pillows are the perfect accessories at the scene.
11. A Statement-Making Foundation
A stone foundation can make a structure feel well established, like a symbol of tradition that's been a consistent force for generations. This building certainly has that effect, as the veneer stonework in various shades of gray communicates a sentiment of longevity. Notice how the natural grain patterns add beautiful detail.
12. The Raised Patio
Outdoor living spaces benefit from materials that establish a strong link with their natural surroundings. Dry stacked stone is an easy choice for achieving this effect, adding wonderful embellishment to the exterior wall of this raised patio space.
Find Beautiful Dry Stacked Stone Veneer from Stoneyard®
Stoneyard® has dry stacked stone veneer panels that are great for indoor or outdoor use, and with options like ledge, mosaic, and rounded stones, you can craft the ideal design to beautify your home.
Contact us today and an experienced member of our team will answer your questions and help you find the perfect material for your project.
More posts
Contact us if you have questions about Stoneyard products