Stacked stone is a great way to create a natural stone look on walls, chimneys, and columns, and one of the best places to use this construction technique is on a stacked stone fireplace. For hundreds, even thousands, of years, fireplaces have been constructed with stone because of its fire resistance and natural beauty.
What Is a Stacked Stone Fireplace?
A stacked stone fireplace creates the look of thin, rectangular stones stacked on top of one another with little to no grout in between the stones. This creates a layered look that can be monochromatic or include a variety of colors.
Today, these looks are commonly created with natural veneer stone panels that are thinner and lighter than the full stones would be, This makes it easier to install while capturing the same look of a natural stone fireplace.
Stacked stone panels are made of stones that are cut, fit, and glued together, so while they should still be handled carefully to avoid breakage, they are easier and faster to install than individual stones.
10 Stacked Stone Fireplace Ideas
1. Make the Entire Wall a Focal Point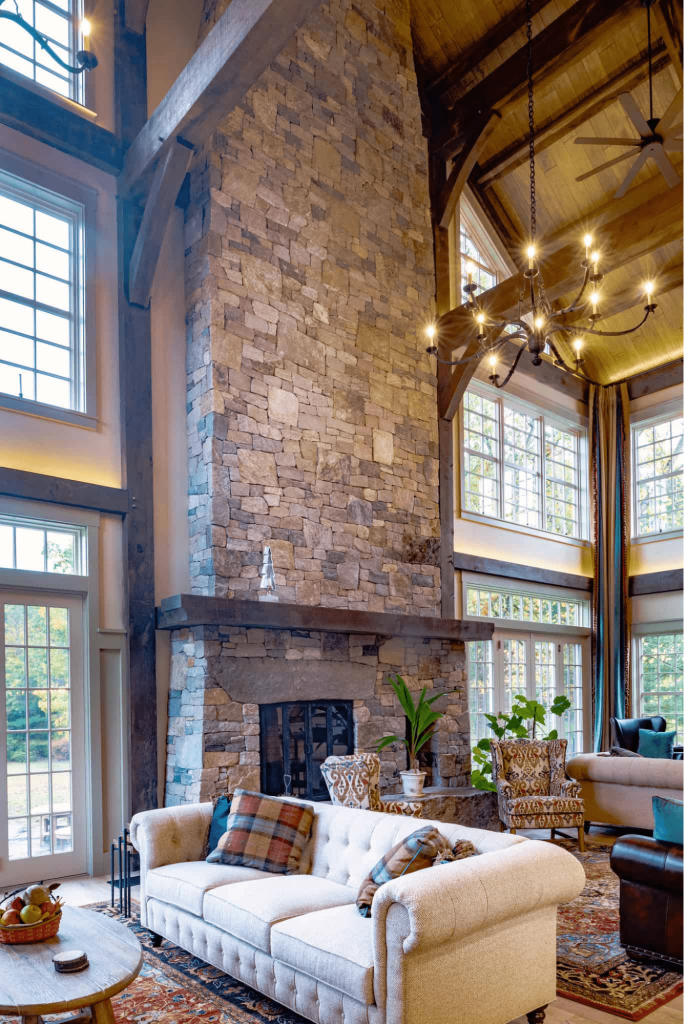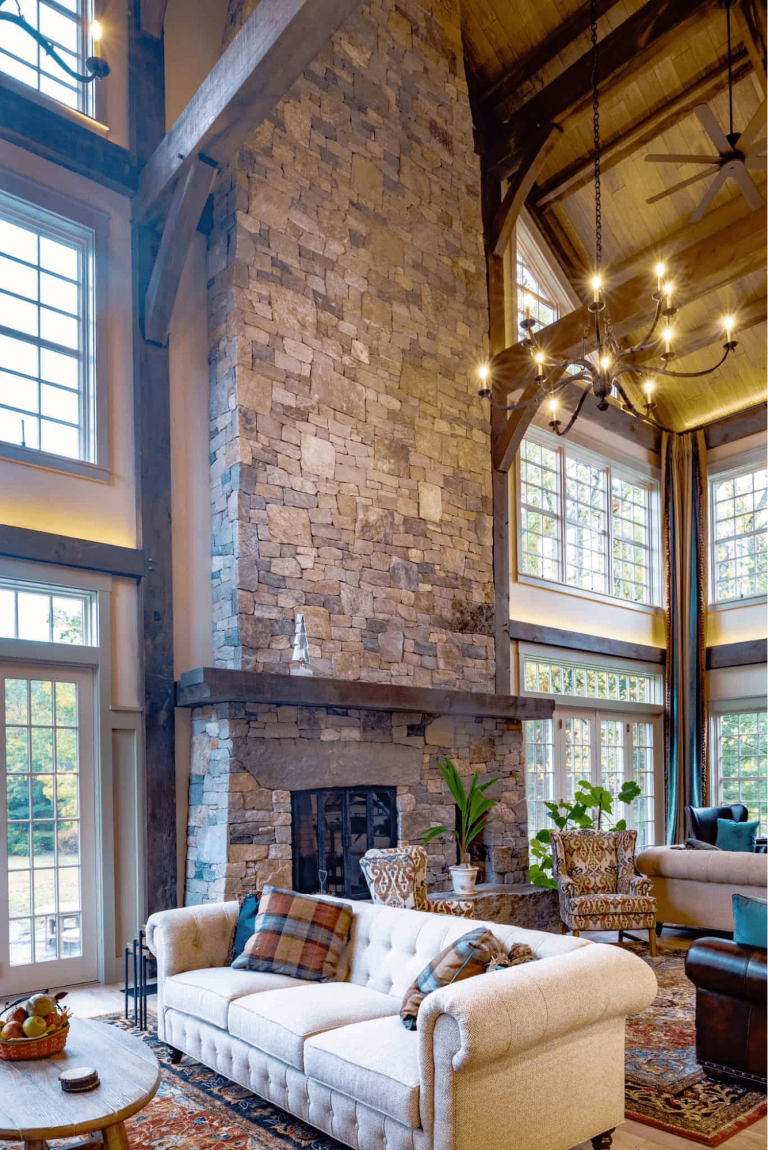 Often, fireplaces are a smaller focal point in a room, but to create an impressive feature, the entire fireplace wall can be finished with stacked stone panels. The panels fit together seamlessly for easier installation than whole stone. This makes them ideal for covering large areas and bringing your stacked stone fireplace wall ideas to life.
2. Create a Wide Hearth for Cozy Seating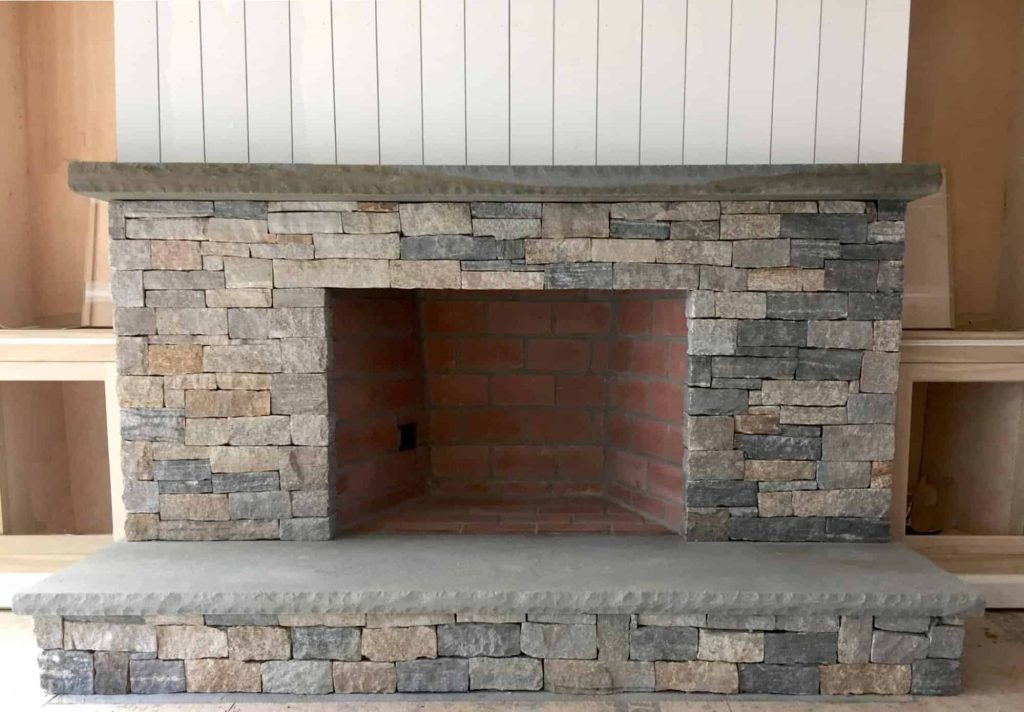 Looking for a stunning fireplace that adds depth and texture to your room? Check out our Boston Blend® Ledgestone Thin Veneer stacked stone fireplace with an extra wide hearth! It's perfect for snuggling up and enjoying the warmth of a roaring fire.
Crafted from natural stone, this fireplace boasts a beautifully designed stacked stone surround that enhances its colors and creates a cohesive look. By incorporating these two elements, it becomes an eye-catching feature in any space.
But it's not just about looks – the use of natural materials brings warmth and comfort to your home, making it ideal for family gatherings or quiet evenings in. And with its timeless appeal and durability, you can enjoy this focal point for years to come. In short, our Boston Blend® Ledgestone Thin Veneer stacked stone fireplace is both functional and aesthetically pleasing.
3. Choose the Same Stacked Stone for Multiple Features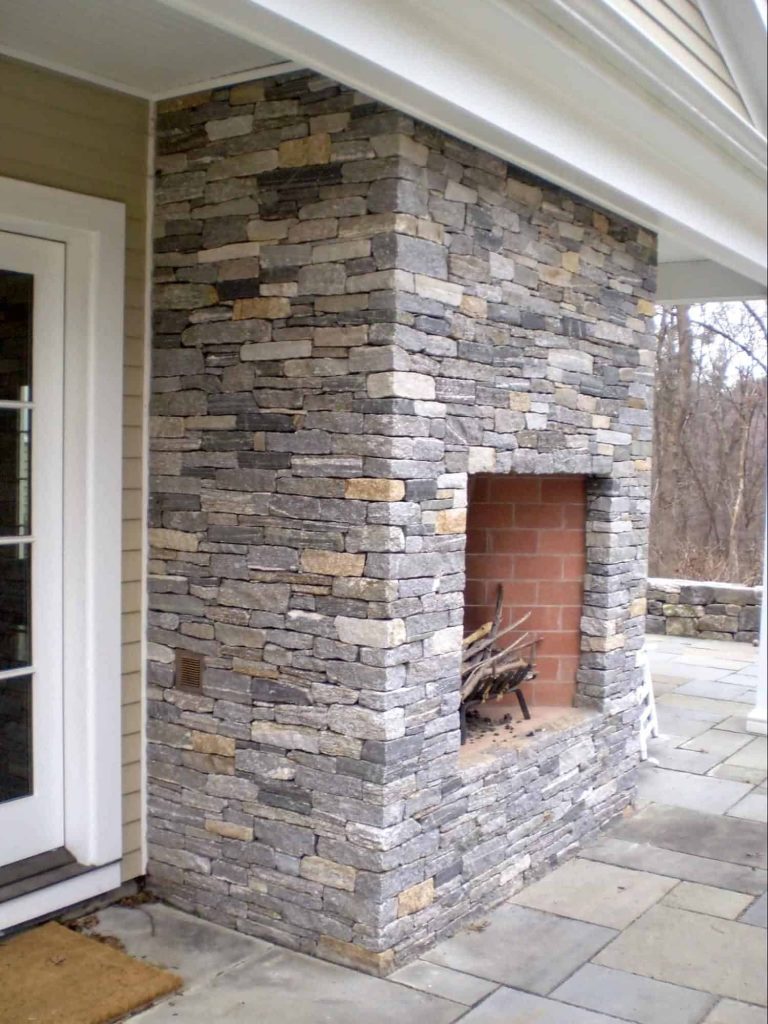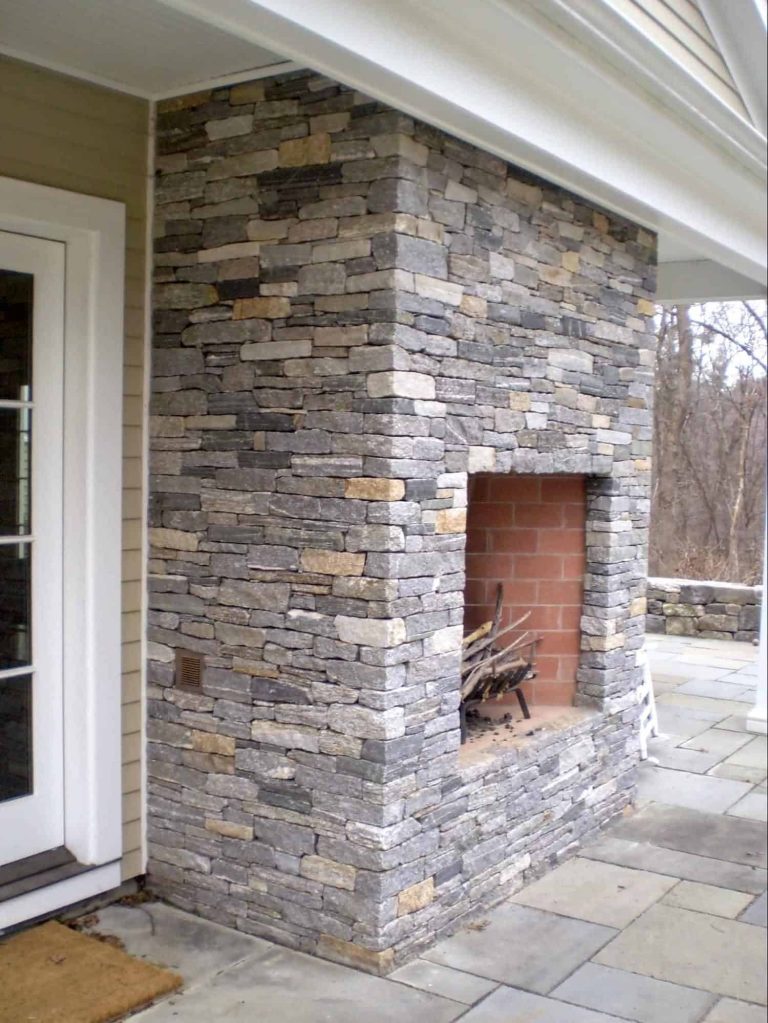 This fireplace uses the Boston Blend® Ledgestone that contains a wide range of colors including gray, white, tan, pink, and black. The patio's surrounding Wallstone mirrors the look of the stacked stone fireplace. This is an idea that creates cohesion throughout the space and ties the design elements together.
4. Create a Subtle Accent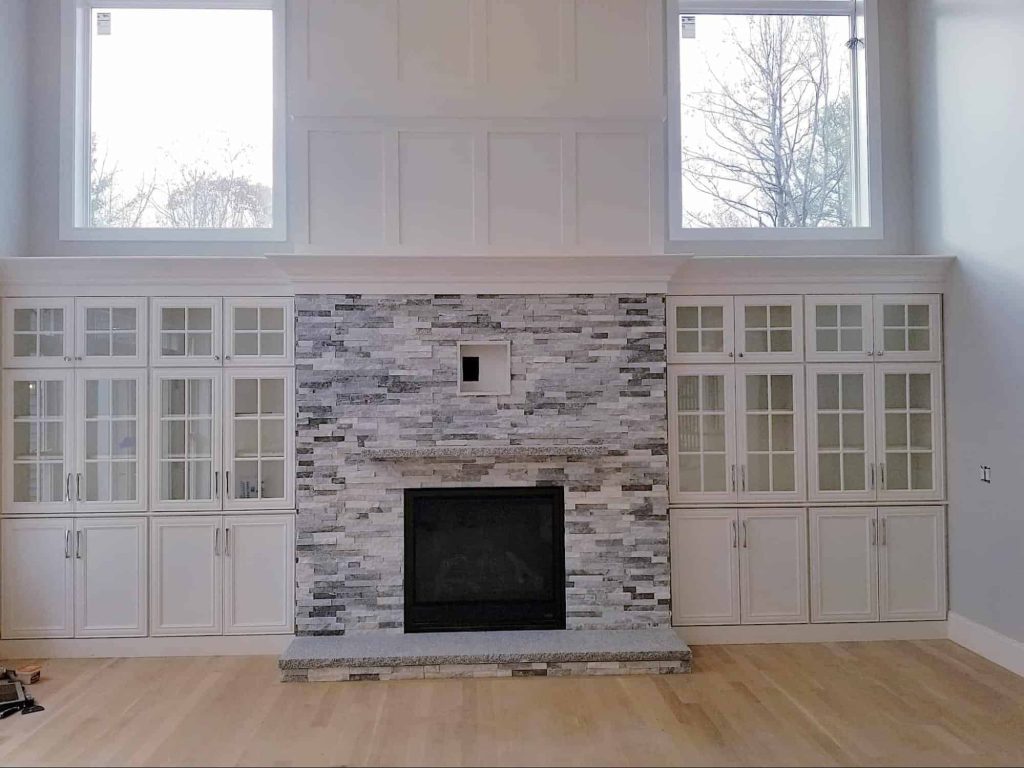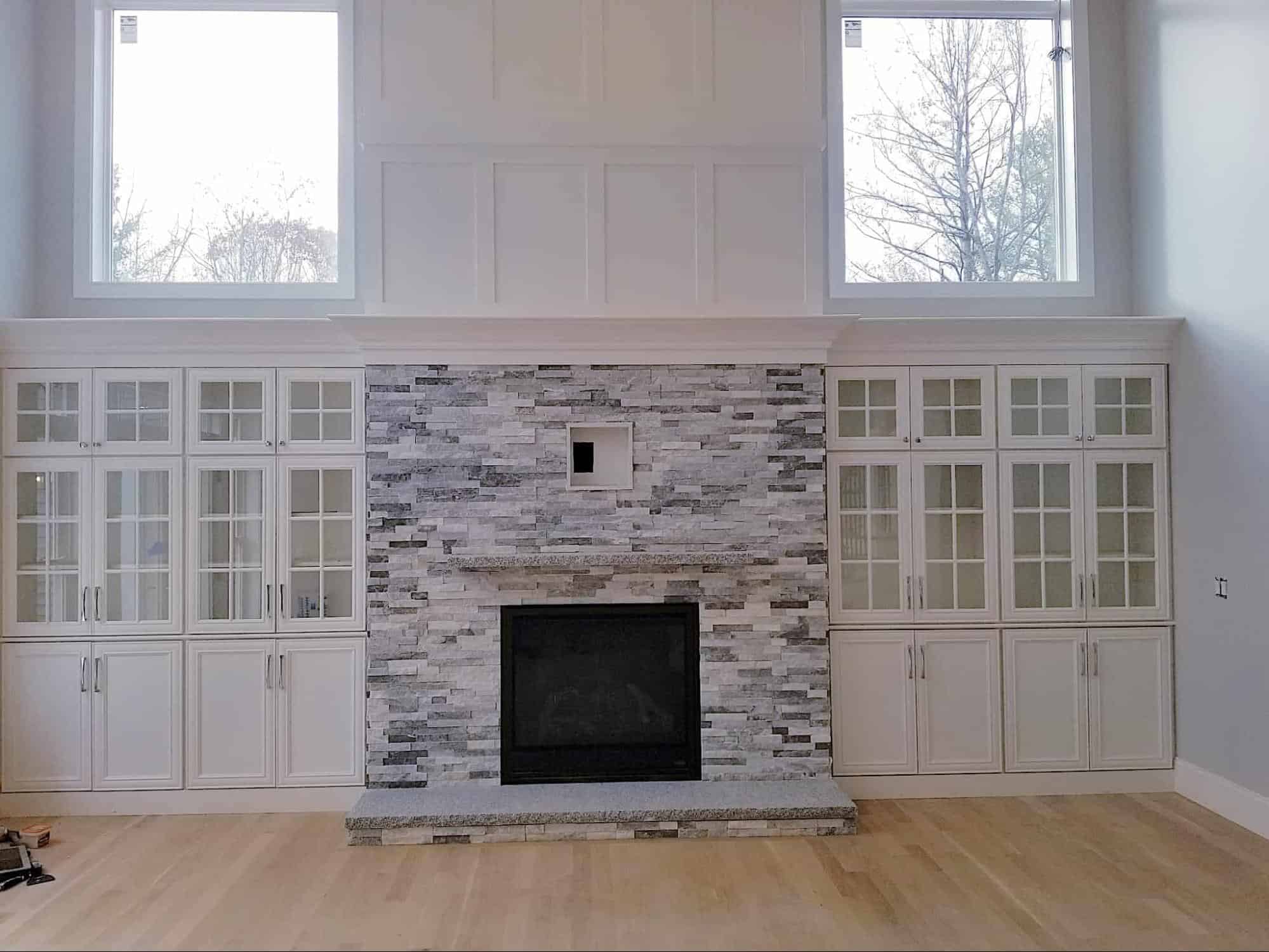 In this bright white space, the fireplace creates a subtle accent that ties the room together. Alaska Gray stacked stone panels weave together tones of dark gray, light gray, white, and blue that adds texture and dimension to the space.
5. Add a Pop of Color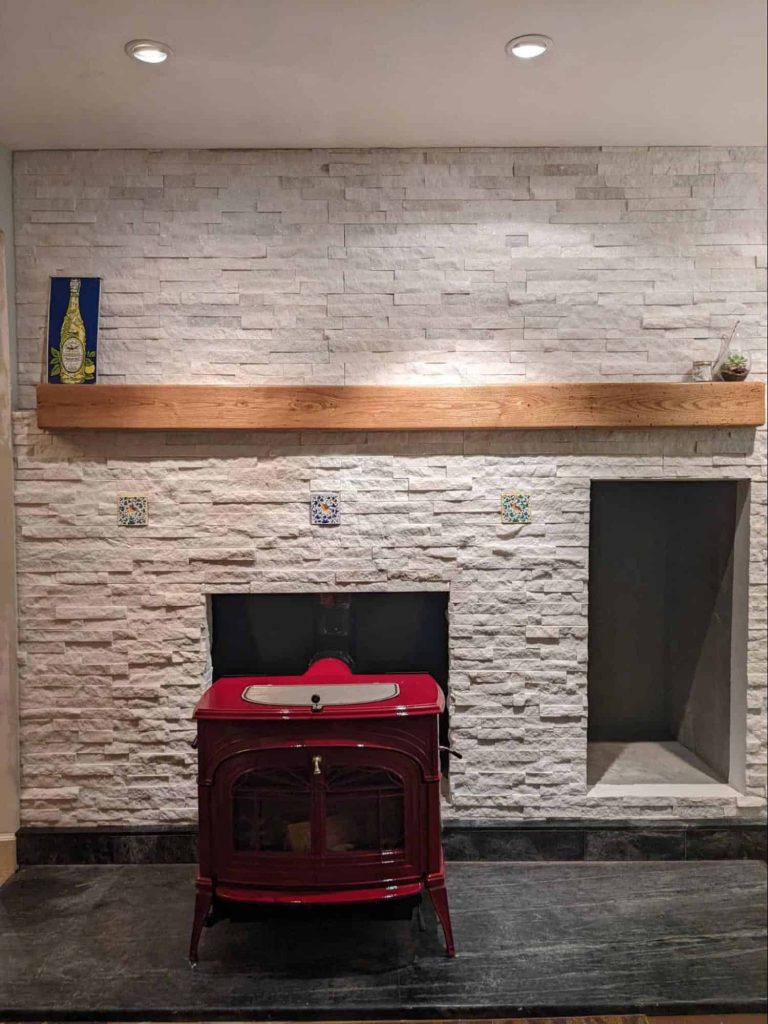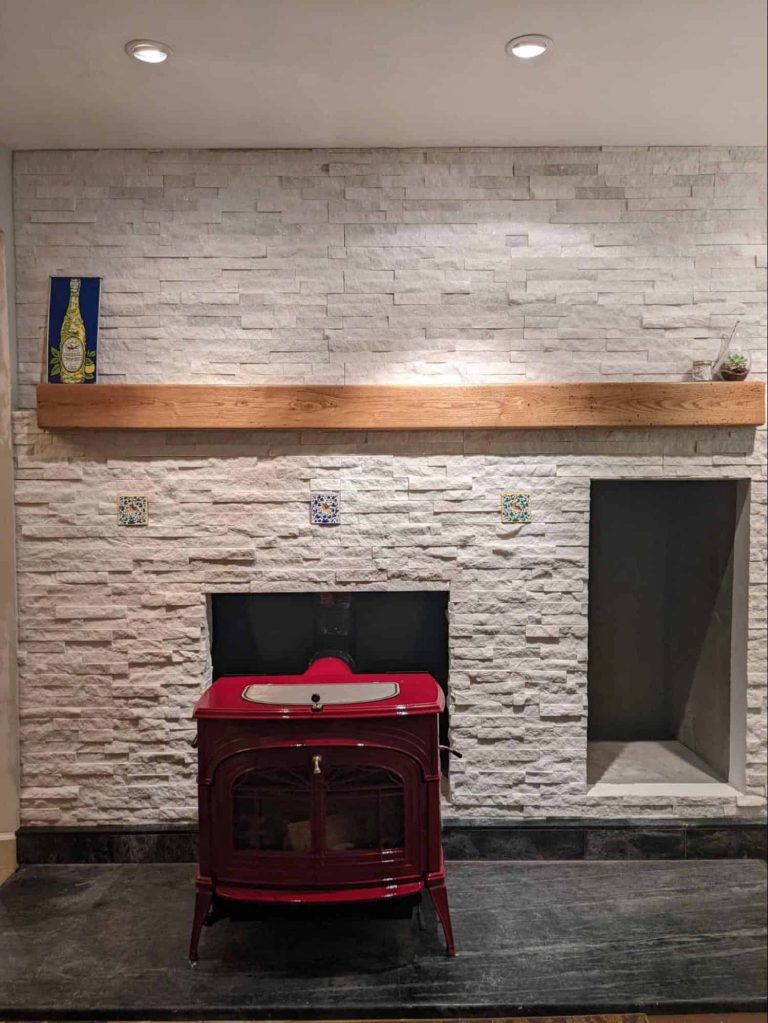 This Arctic White fireplace is the perfect backdrop for a red vintage wood stove. With a minimalist mantle and colorful inlays, this stacked stone fireplace wall idea will be a conversation piece for years to come.
6. Create Modern Luxury with Timeless Materials for your Stacked Stone Fireplace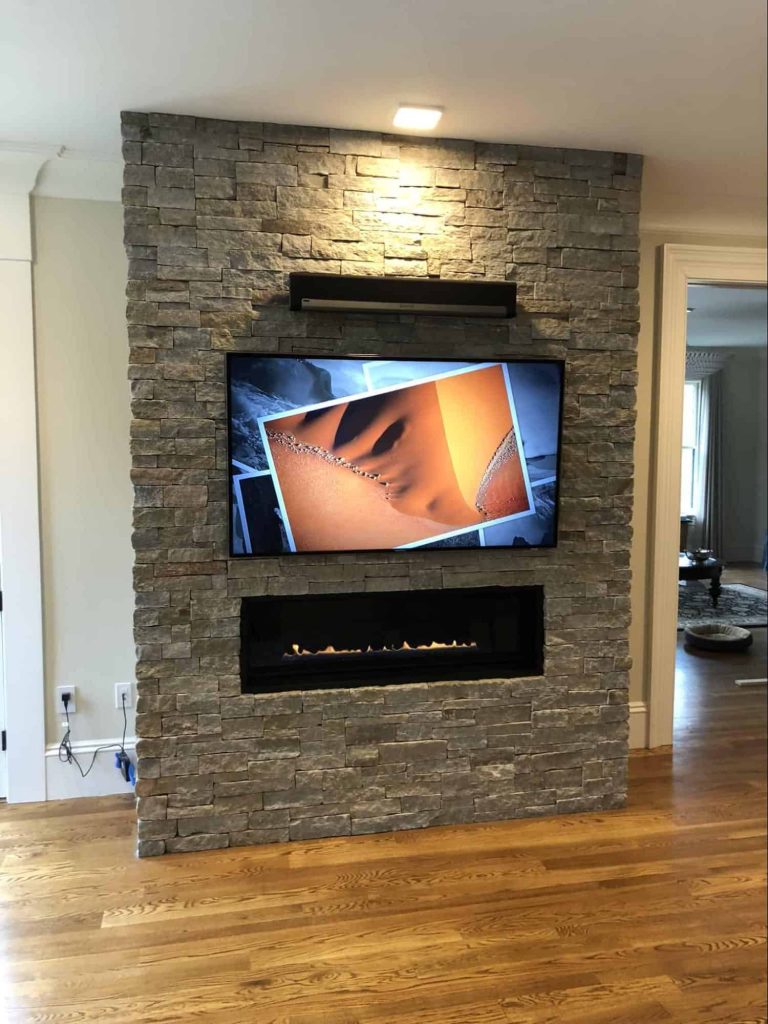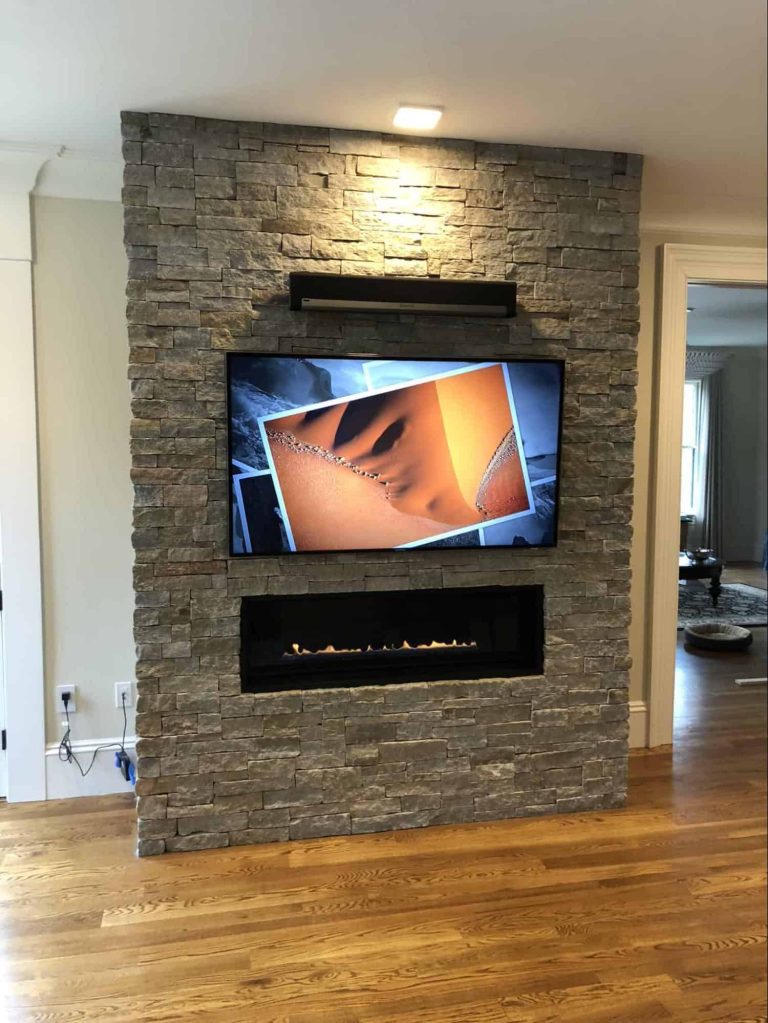 Far from traditional, this Boston Blend Thin Veneer fireplace stacked stone idea incorporates a modern fireplace and flat screen TV. A great combination of relaxation and entertainment. Strategic lighting makes it even more of a focal point in the room.
7. Extend the Fireplace to the Ceiling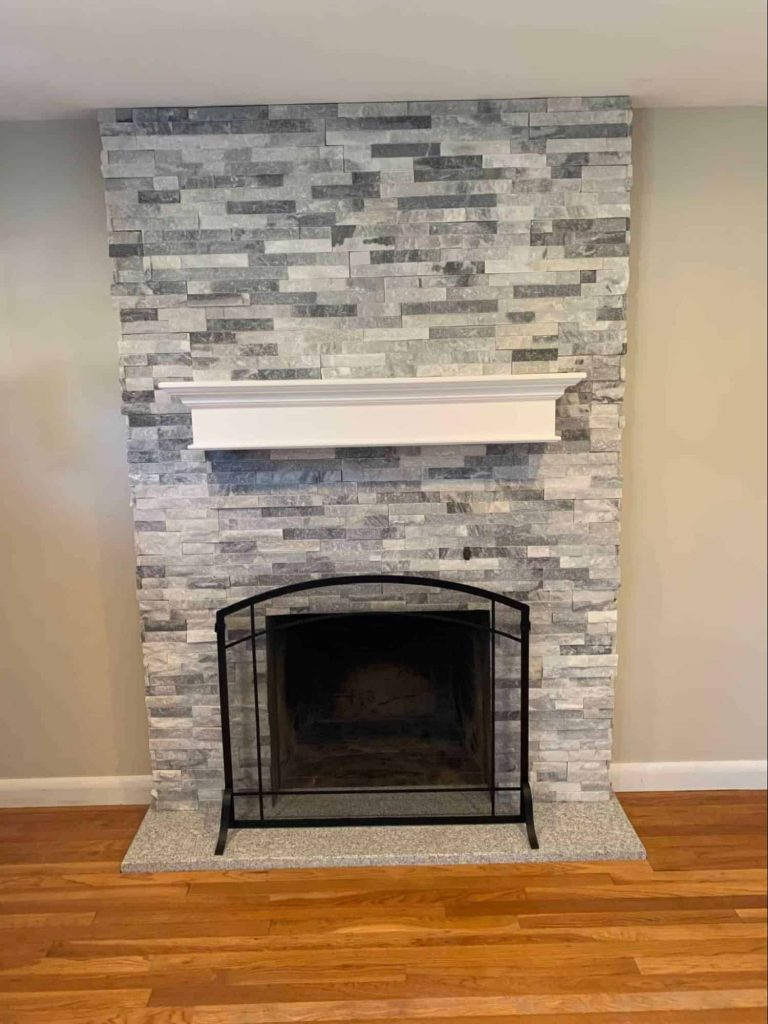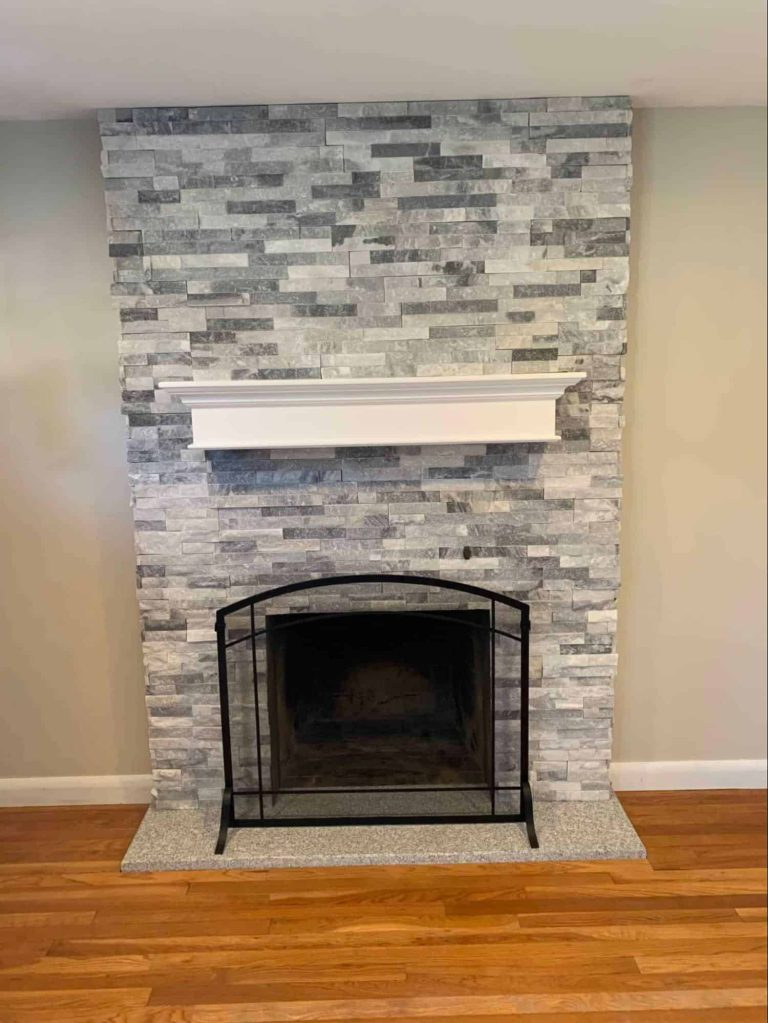 Extending the fireplace to the ceiling and creating a low hearth allows the Alaska Gray stacked stone to really have its moment as a statement feature in the room. A floating white mantel enhances the white stones throughout and nicely accents the darker stones.
8. Eliminate the Mantle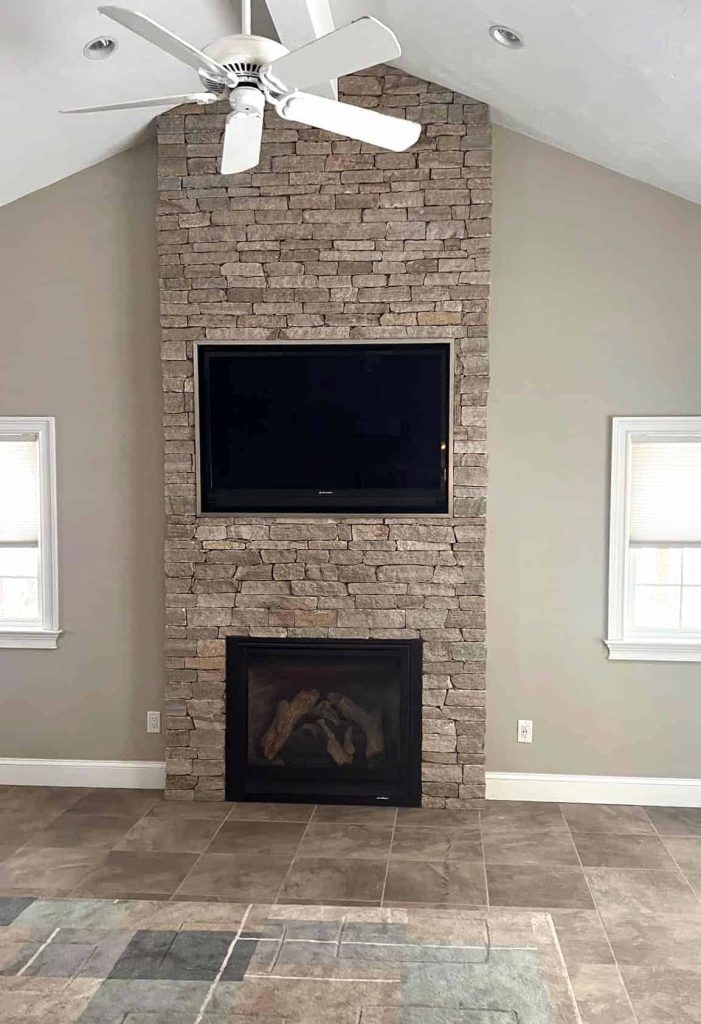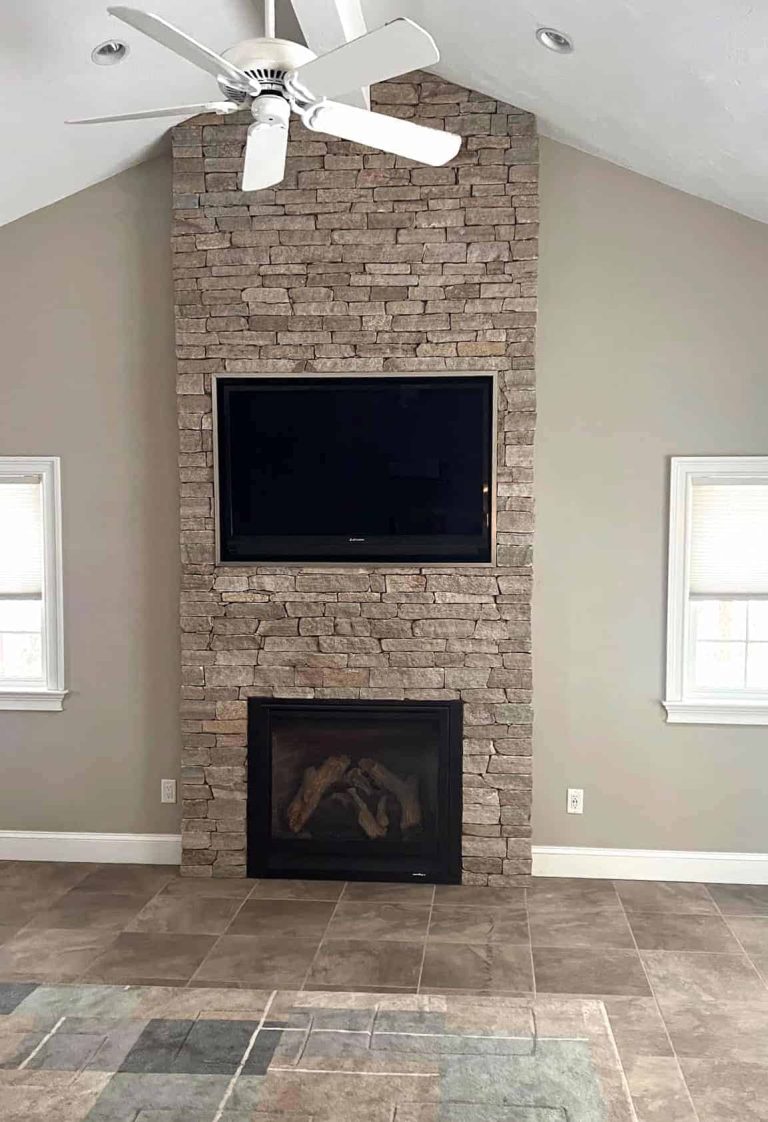 Mantels are a traditional part of a fireplace meant to help the Fireplace retain heat. In some cases, eliminating the mantel can be a design decision that enhances a streamlined look and feel. The stacked stone panels add depth and dimension, and you can still achieve a dimensional look without the mantle.
9. Use a Mix of Natural Materials for your Stacked Stone Fireplace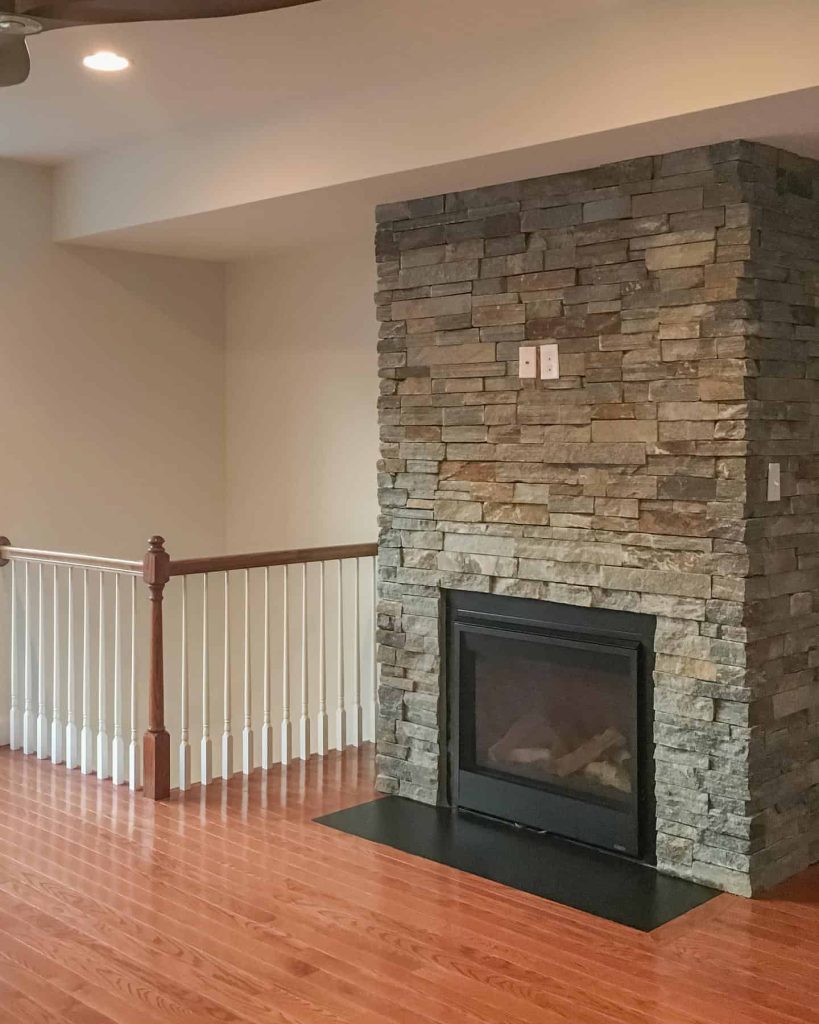 Combining natural materials like a wood floor and a stone fireplace increases the level of warmth in a space, and makes it more comfortable and welcoming. In this design, the lineal look of the stacked stone draws the eye up from the wood floor, but without taking over the space. Installed in a tight-fitting pattern, Diamond Peak Stacked Stone Veneer showcases its sawn edge and hues of gray with occasional rusty brown accents.
10. Go Soft and Subtle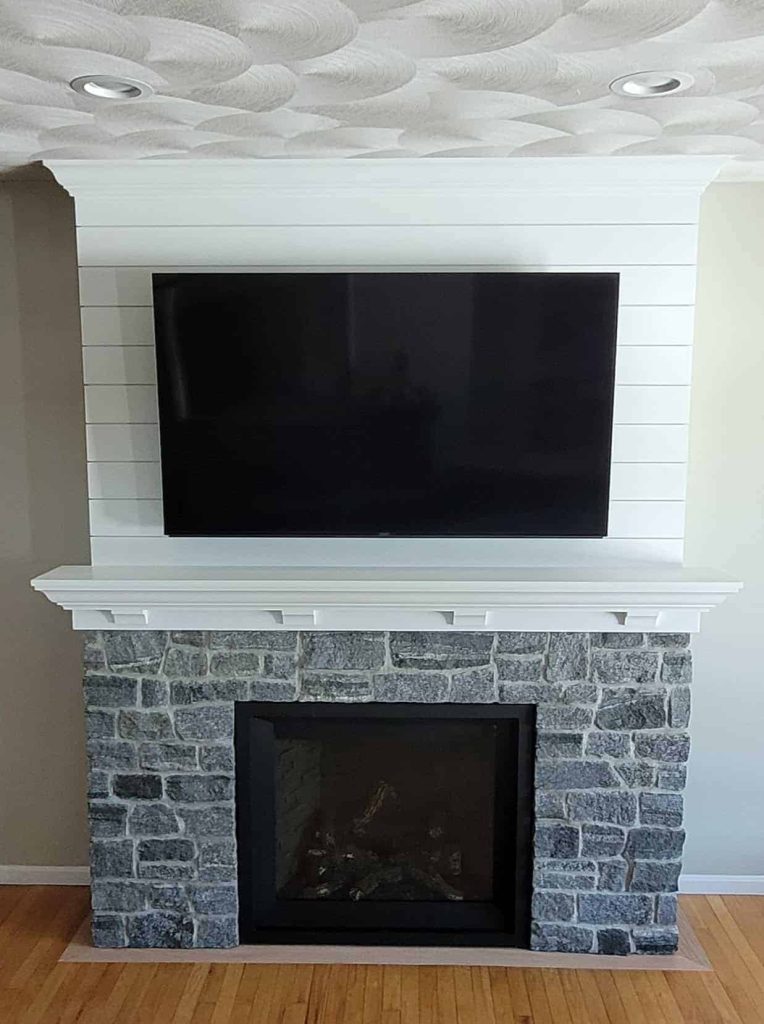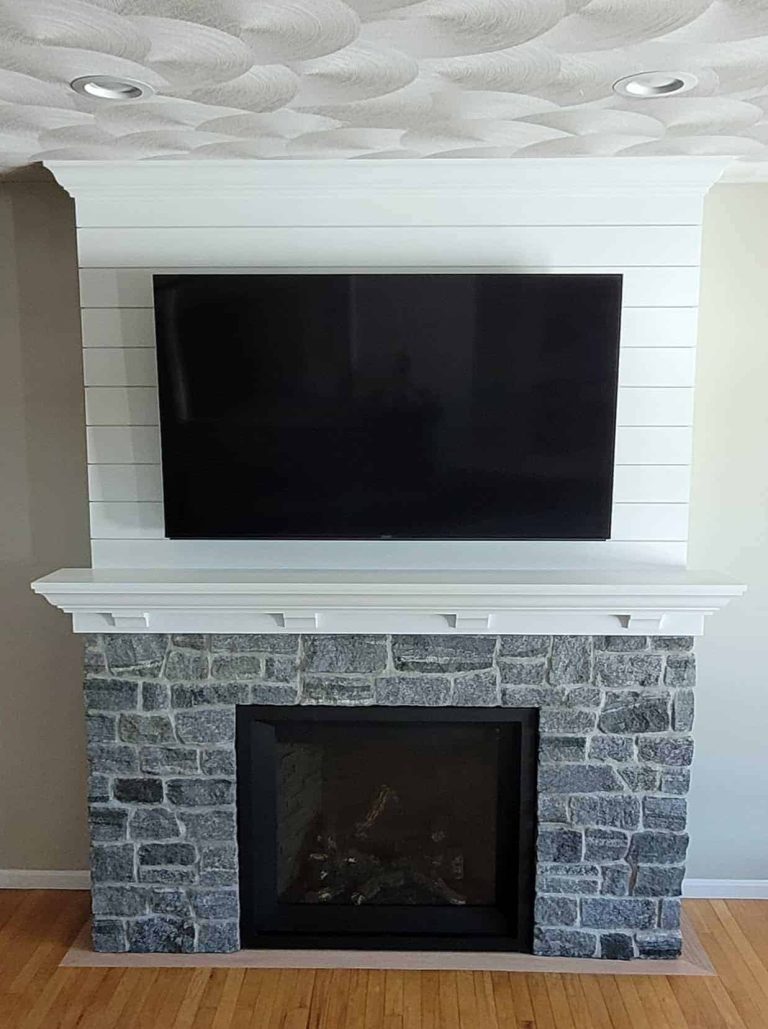 This muted tone design creates a soothing environment in which to gather and relax. A white accent wall and mantel sit above the Oyster Bay Ashlar Face Veneer that features deep gray, blue, black, and white hues. The small amount of grout draws attention to the shape of each individual stone to highlight its natural textures and color variations.
Stoneyard's Variety of Options Can Help You Bring Your Stacked Stone Fireplace Hearth Ideas to Life
Stoneyard® offers a variety of different stacked stone panels. These feature stones that are cut, fit, and glued together into an interlocking panel to make installation quicker and more efficient. It also eliminates much of the need for cutting to ensure the stones fit together. Our seamless interlocking design means that you won't see seams throughout and can achieve a cohesive look.
Contact the experts at Stoneyard® today to design the perfect stacked stone fireplace for your project!
---
More posts
Contact us if you have questions about Stoneyard products