Stone and brick are timeless building materials that have been used for thousands of years to create structures that protect people from the elements. What better way to create a beautiful, reliable, and stately structure than to combine these materials for brick houses and stone veneer
It may seem like an aesthetic conflict, but brick houses with stone accents are an exceptional design pairing when properly done. Here are 9 brick and stone combinations that will inspire and excite you to create your own unique designs:
9 Design Ideas for Brick Houses with Stone Veneer Accents
1. Use Different Sizes to Create Depth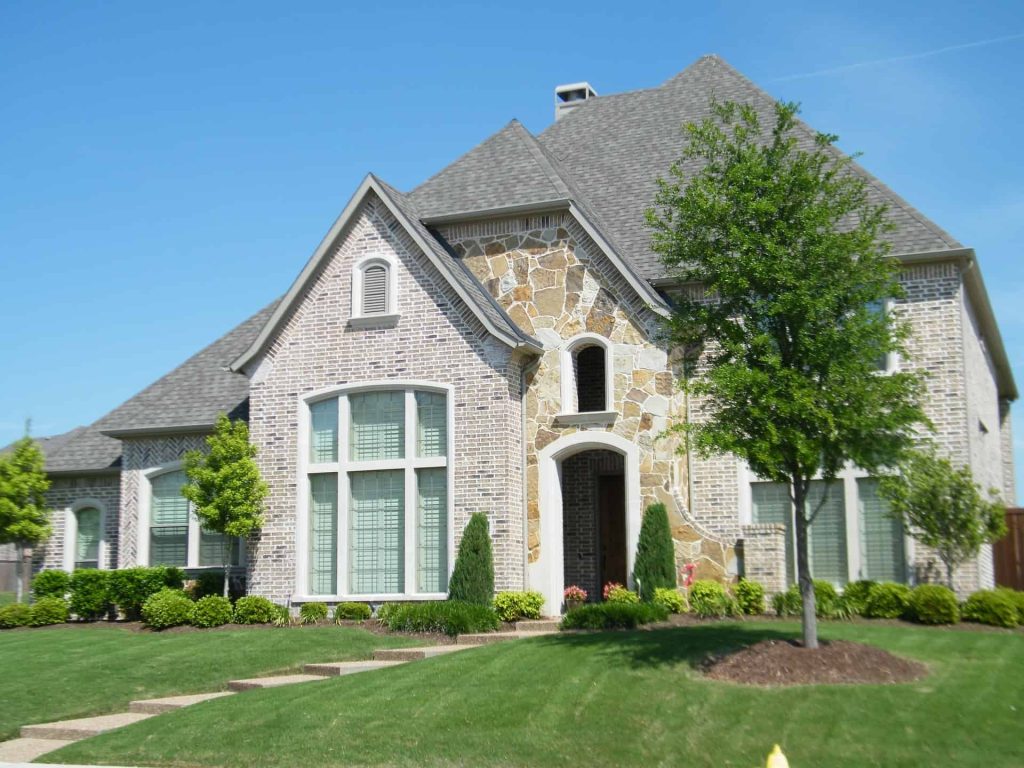 Thin, light colored bricks dappled with darker shades throughout create a contrast to the sandstone and tan colored mosaic stone veneer to create an increased depth in this stepped-back stone and brick exterior design idea.
2. Mix in More Materials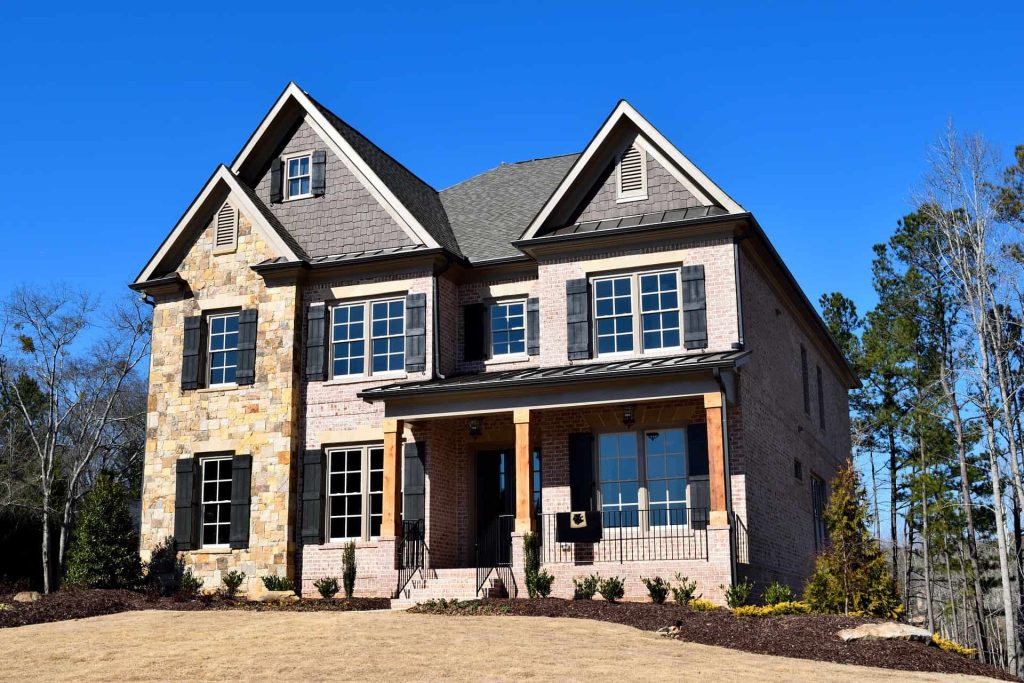 Brick houses with stone accents make use of a classic combination, but adding in even more distinctive materials can help give the house a unique look and feel. This design combines brick and stone and then brings in wood columns and cedar shake siding to create a mixed look that is stately and sophisticated.
3. Set the Foundation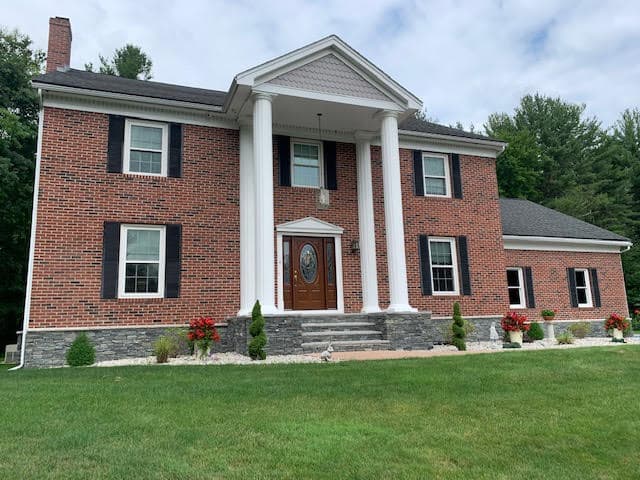 This home features classic columns and a brick facade that sits atop a stone foundation. Stoneyard® Greenwich Gray® Ledgestone forms the base for this stately home and gives it a natural, grounded look. The subtle strips of white and green also pair perfectly with the landscaping.
4. Use Stone as an Accent with Brick Facades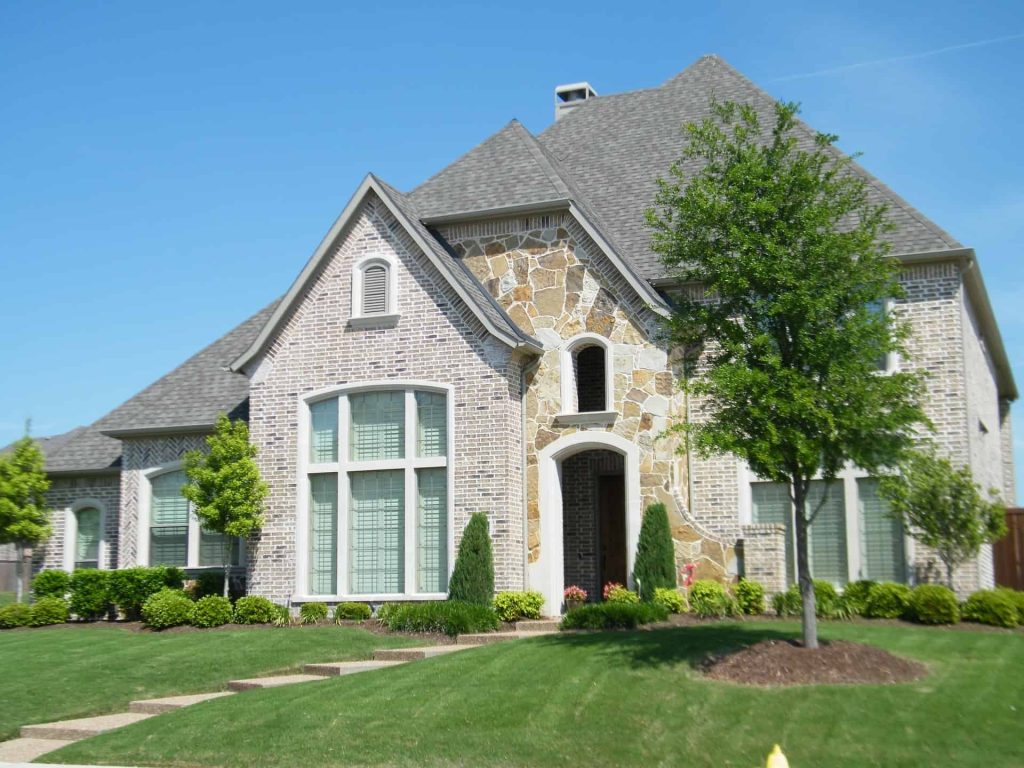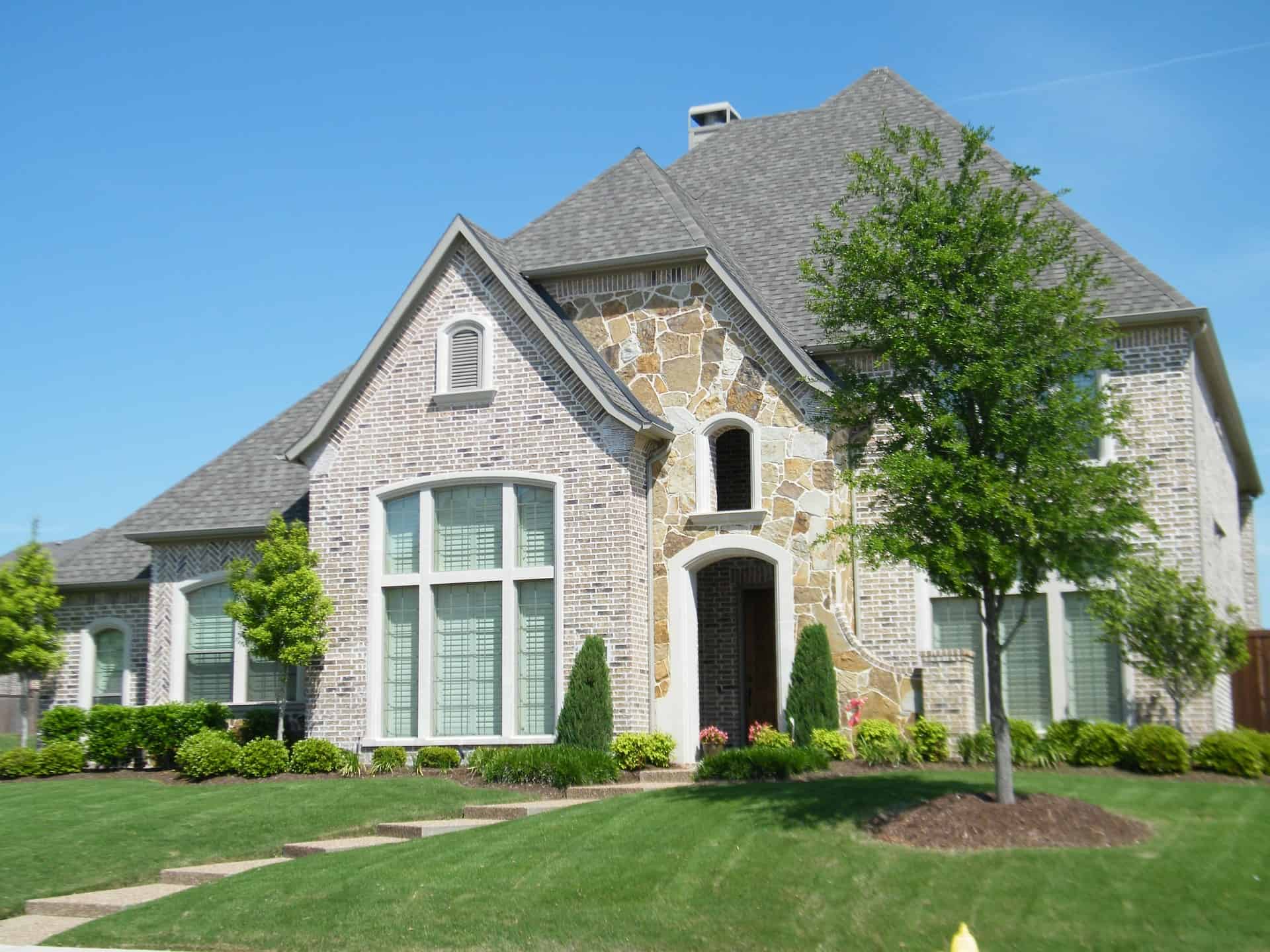 Homes with brick and stone have a unique opportunity to mix materials in creative ways. This brick home features a stunning two story stepped-out stone entryway that is enhanced by the brick trim around the door and window that matches the rest of the home.
5. Highlight the Entryway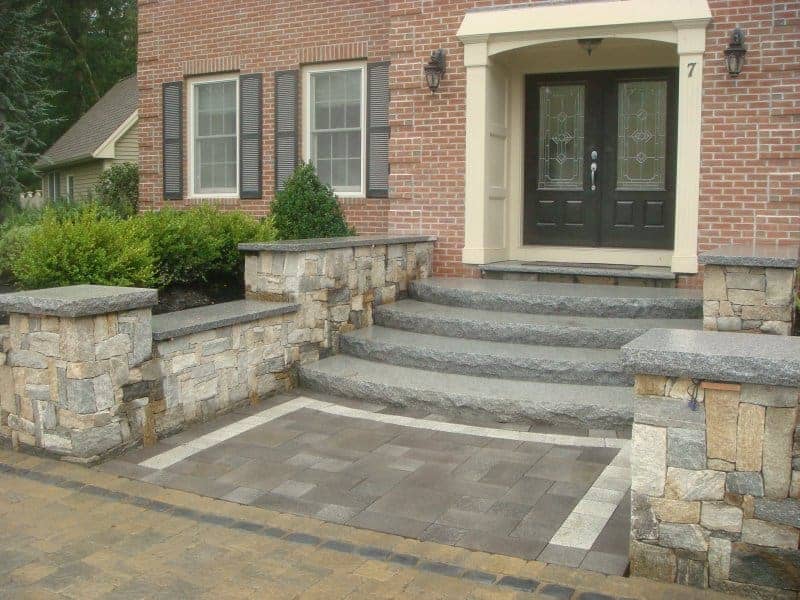 To really make this entryway standout, Stoneyard® thin veneer is used to create the feature of stone half walls that lead to the front door. Square and rectangular stones were placed both vertically and horizontally to give the short columns more dimension.
6. Make the Stairs Stand Out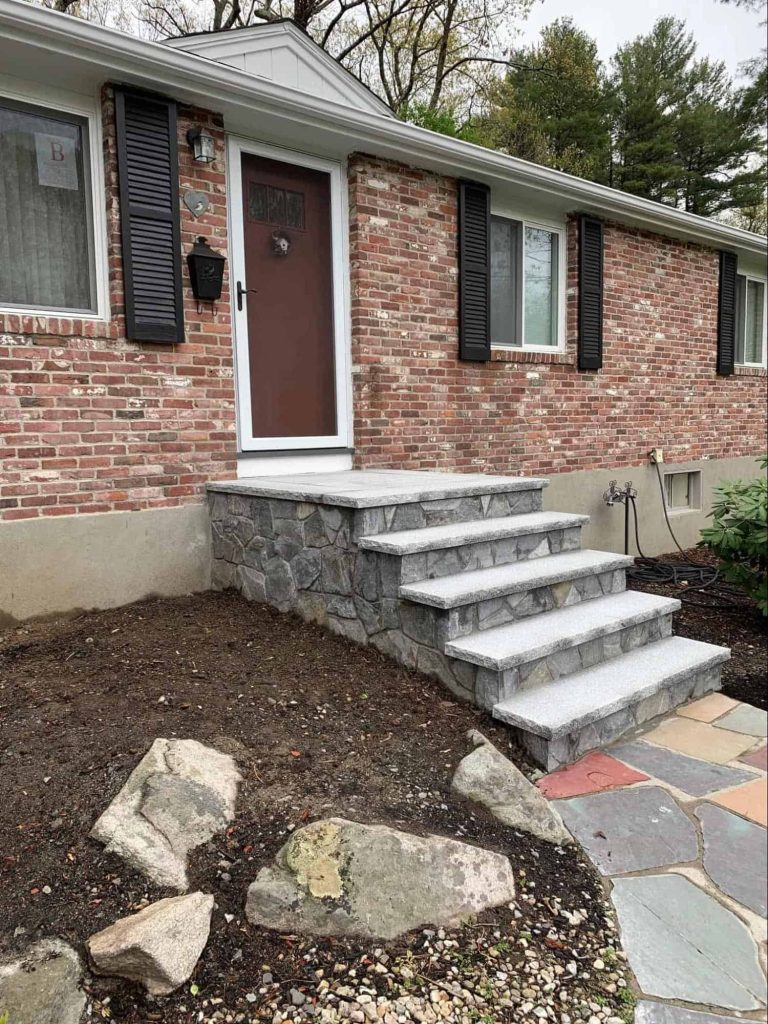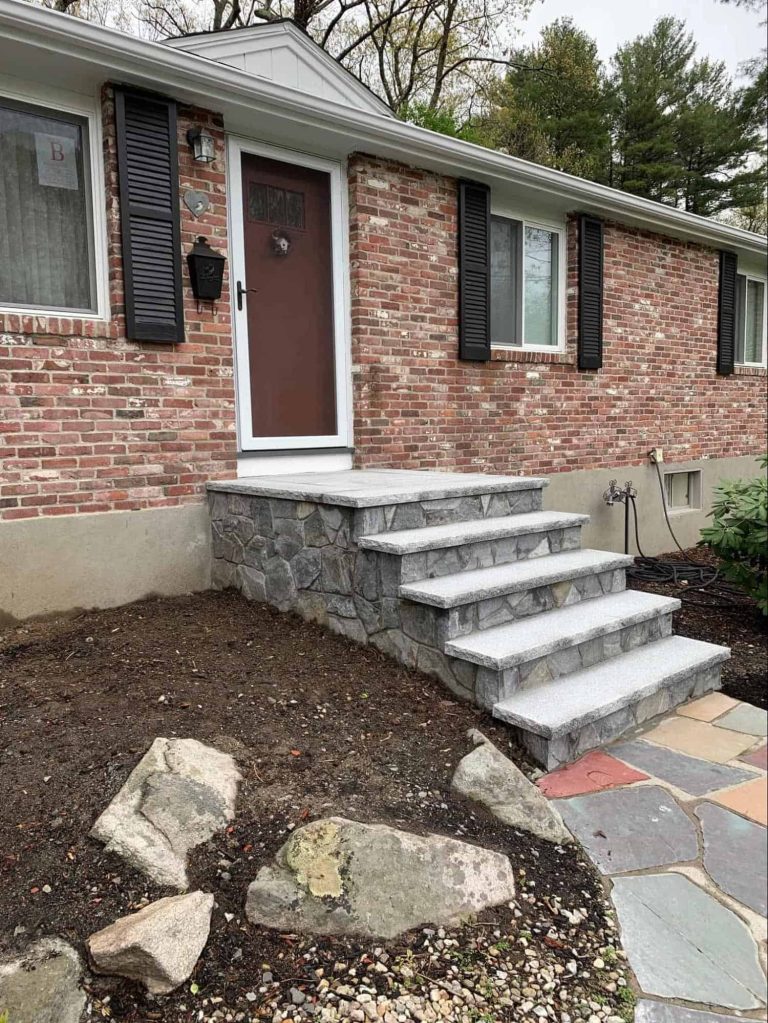 Set against a brick home with concrete foundation, these Steel Bay Mosaic steps are topped with Arctic Granite treads that highlight the blues, greys, browns, and creams of the steps.
7. Use the Power of Proximity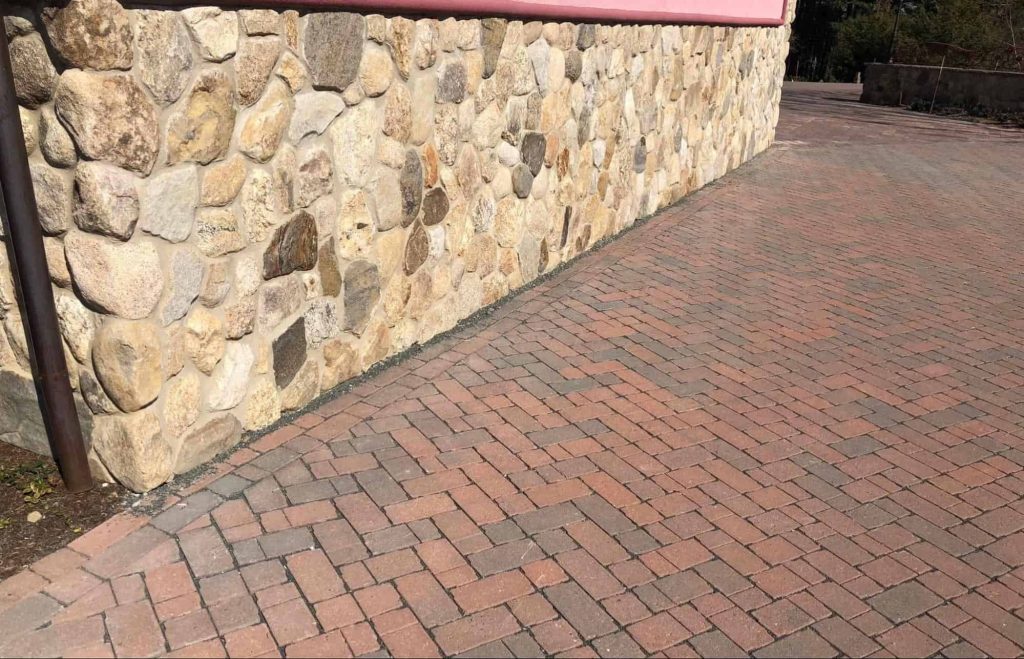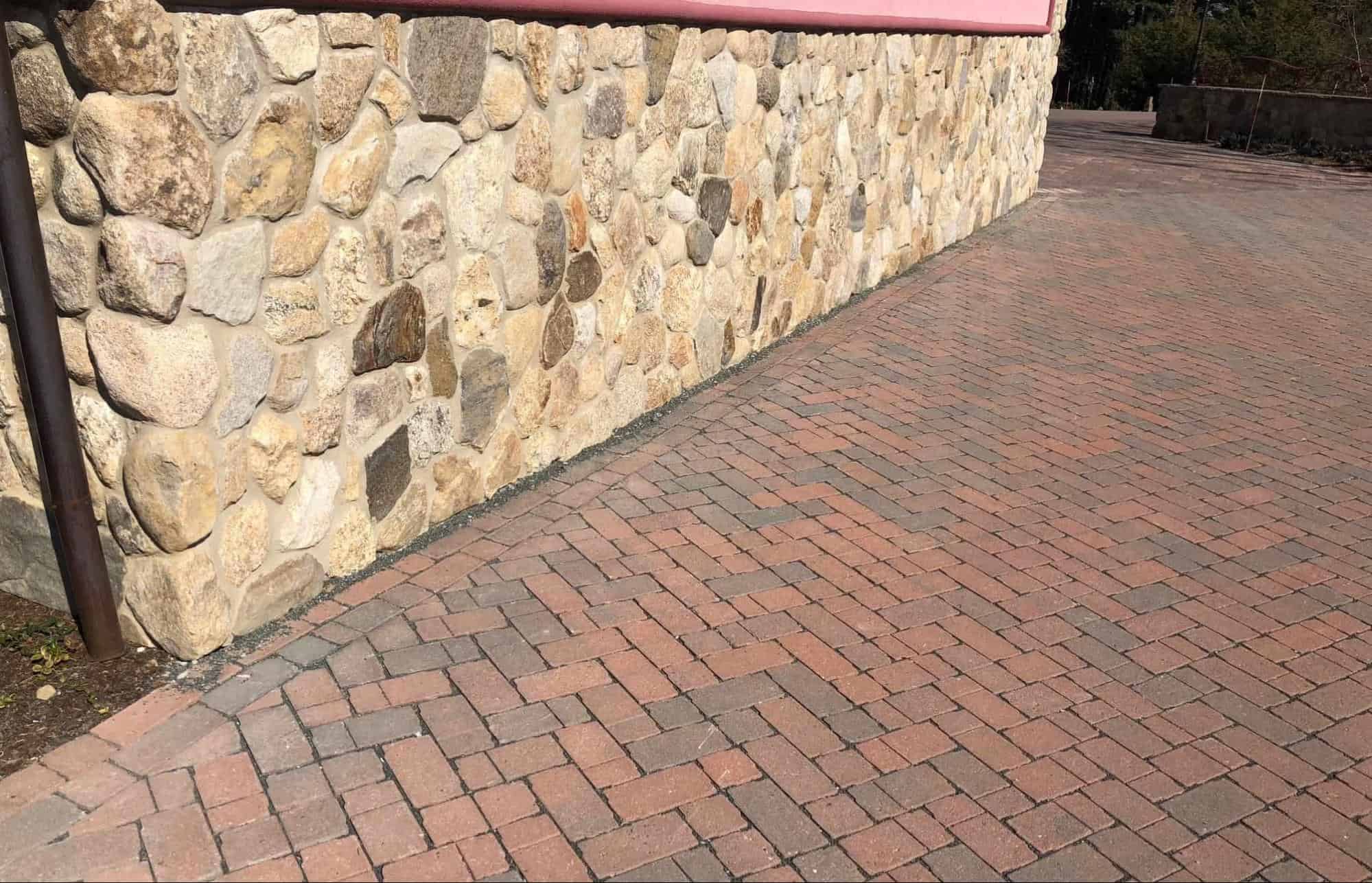 This combination of stone and brick uses the power of proximity. By placing the brick and stone next to each other, they create depth and texture even though they're not on the same structure. Stoneyard® Colonial Tan® Round stones create a smooth contrast to the straight lines of the brick pathway next to it.
8. Incorporate Brick with Stone for Heavily Trafficked Areas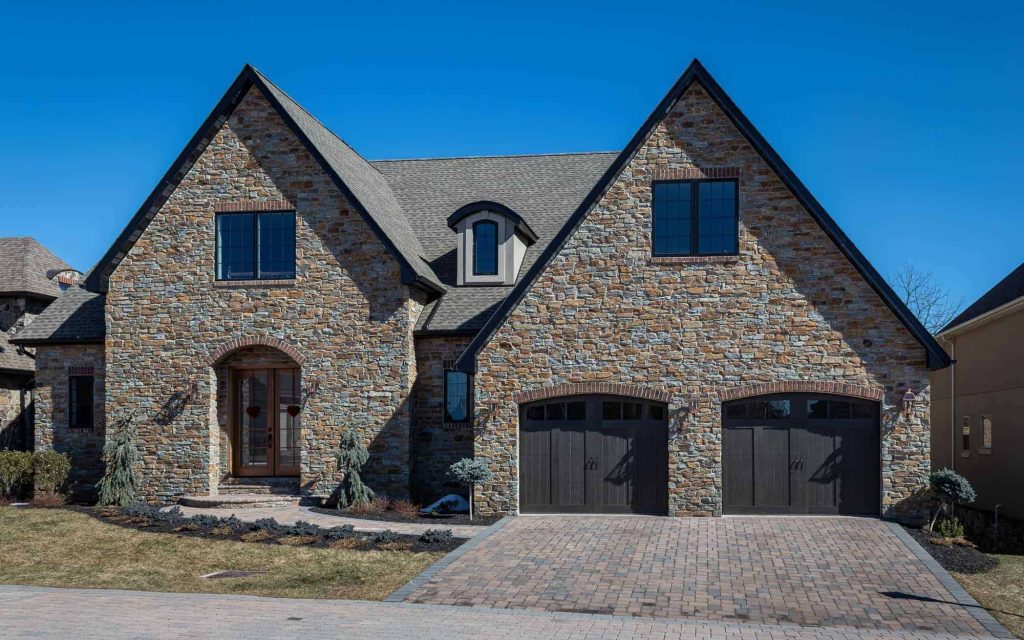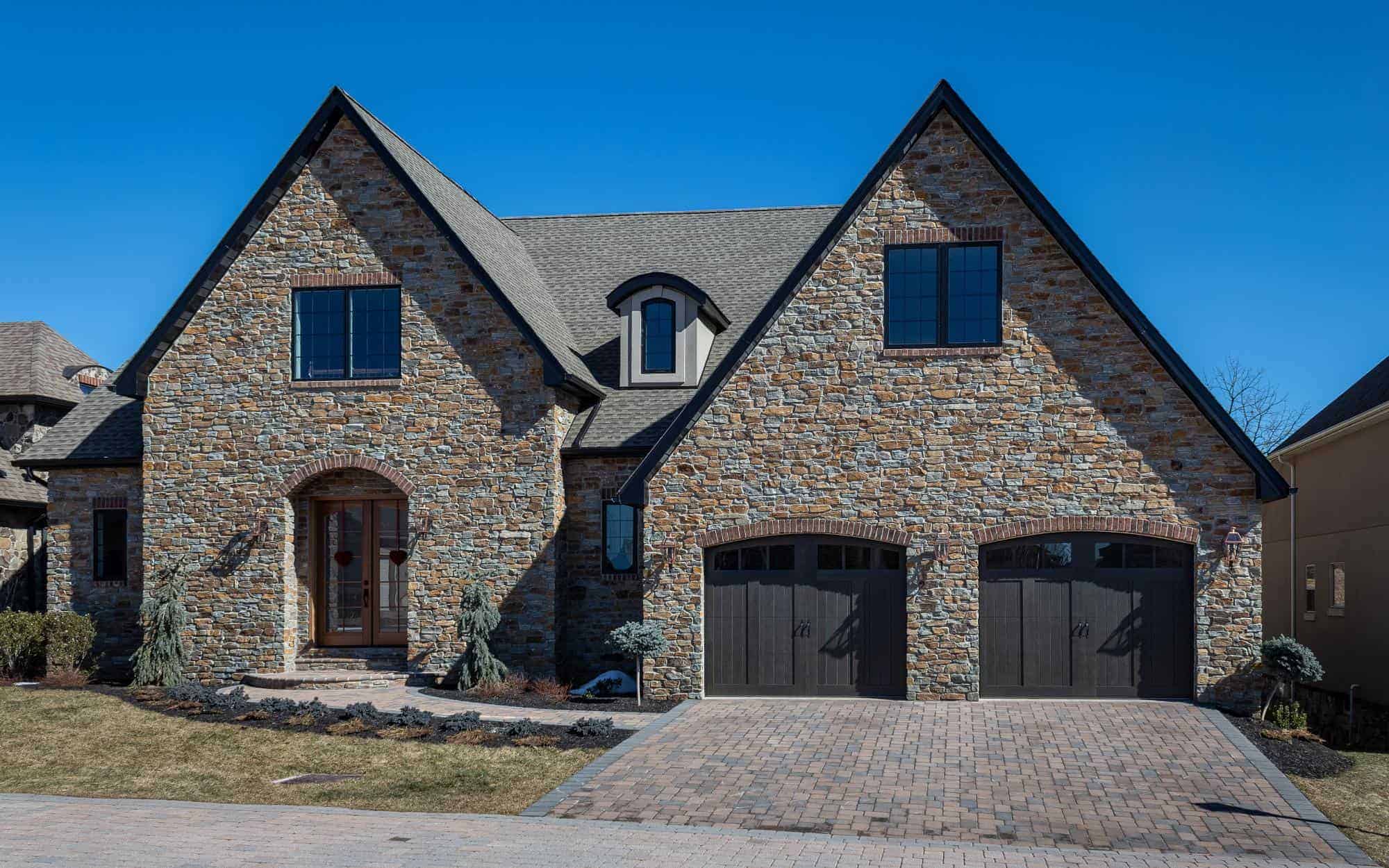 Brick is a highly durable material that has been used for roads and driveways for centuries. This home design makes use of the timeless quality and durability of brick to protect the driveway from vehicles pulling in and out. This will help maintain the exterior beauty of the Redwood Stacked Stone home.
9. Draw the Eye to Unique Features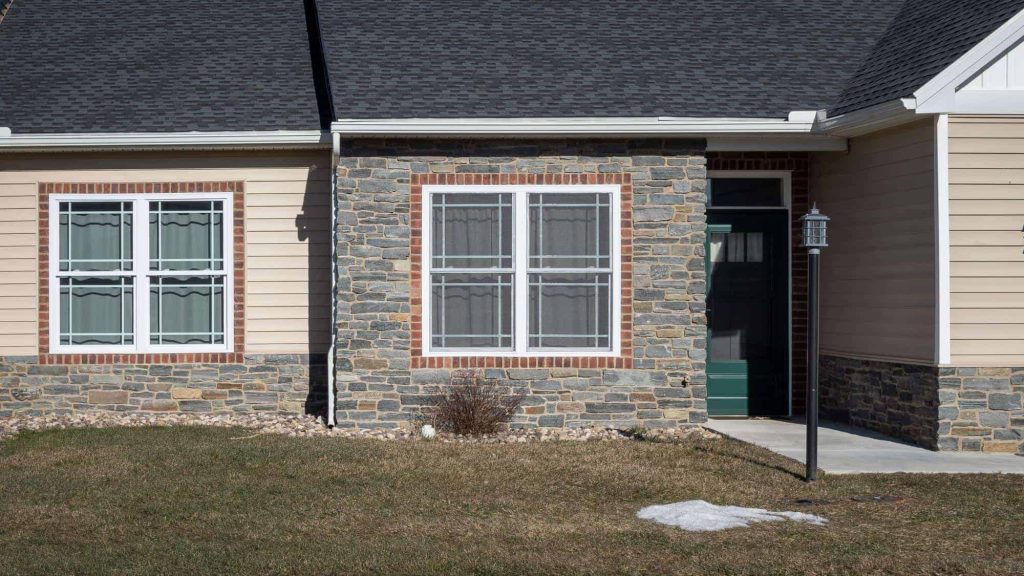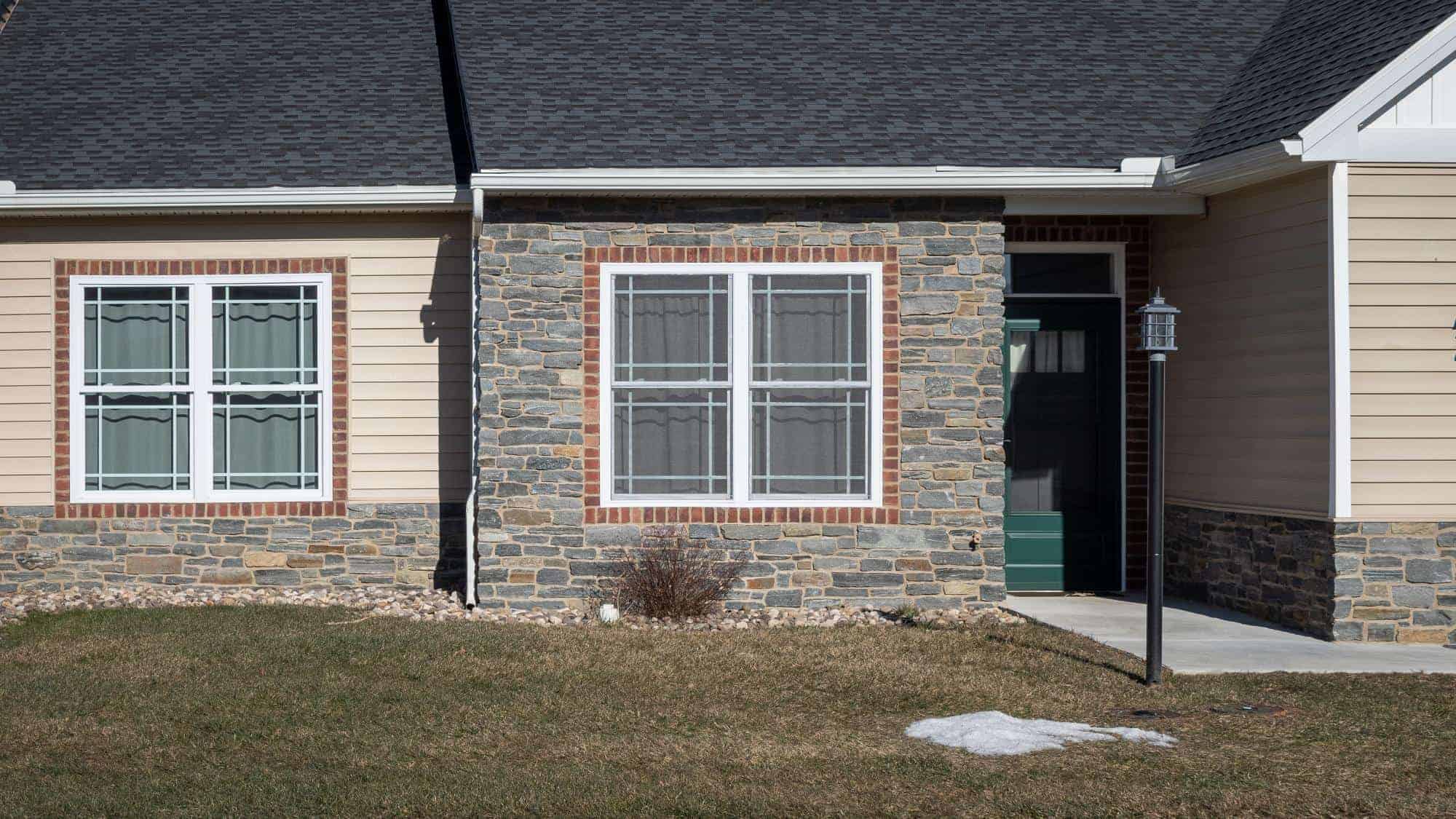 The Flint Cove Stacked Stone rises about a third of the way up the exterior wall of the home and then covers one extended wall. Combined with brick trim on the windows, it immediately draws the eye to these unique features. 
Create Distinctive Designs by Adding Stone Veneer Accents to Brick Houses
Stoneyard® offers a wide variety of both styles and colors in our thin stone veneer, making it easy to create a unique combination of brick and stone. Thin stone veneer is created by sawing and splitting building veneer into stones and panels about 1" thick.
The panels can then be glued together into larger panels that make installation faster and easier or used as individual stones.
Thin stone veneer has many benefits that help make it the perfect accent to pair with a brick house. Benefits include:
Much lighter than building veneer — 14 lbs per square foot compared to 60 lbs per square foot
Beautiful blends of colors that incorporate a wide array of different hues that can't be replicated in manufactured products
Split faces to reveal the natural beauty and texture of stones gathered locally in New England
Can be dry-stacked or use mortar for installation
Doesn't require a foundation to hold its weight, unlike building veneer that requires the foundation's support
Harsh Climate Approved for use in water features, near salt water, in areas with blowing sand, and in other harsh weather conditions
Contact the experts at Stoneyard® today to discuss unique combinations of brick and stone that will make your design stand out!
---
More posts
Contact us if you have questions about Stoneyard products