Using white stone for fireplaces is a great strategy for crafting a cozy interior with exceptional character. There are plenty of ways to approach the design process, as texture, hue, and layout can each be modified to achieve a different feel for the room. If you're designing a living room with a white stone fireplace, be sure to check out the various styles available, as they each express a distinct identity and feel.
This article shares five unique examples of white stone fireplace ideas. Modern stone veneers make it easy to recreate many of these fireplace styles and bring your interior design ideas to life.
Achieve the Aesthetic: White Stone Fireplaces
Rustic, sophisticated, relaxed – a white stone fireplace can serve as the focal point that sets the tone for the entire room. A lot of homes feature white fireplaces, many of which consist of lapping on white paint over plain bricks. This is certainly one strategy, however, using paint alone to refresh your fireplace doesn't leave much room for creativity in terms of texture, stone style, or layout.
Using white or near-white stone provides plenty more room to create an inspired design. With modern materials, it's quite easy to achieve this aesthetic without undergoing massive masonry and remodeling work. Whether you're working with a white stone electric fireplace or a white stone gas fireplace, using high-quality veneers can help you speed up the installation process and avoid major demolition.
5 White Stone Fireplace Ideas
Off-white brick and white stone veneer fireplaces have amazing character and authentic charm, as you'll see in the gallery below. Explore the options and find your favorite.
1. Rustic Off-White Ledge
Ledge is made up of long rectangular bricks with irregular edges. Naturally rustic in its appearance, ledge stone adds amazing texture to the overall fireplace design. This off-white stone veneer fireplace is complemented by a smooth, flat beam with noticeable wood grain, that bolsters the natural aesthetic and creates a cozy ambiance. Notice how the recessed lighting helps cast shadows across the stone to emphasize the visual texture in an attractive way.
2. Smooth Oyster-Colored Tiles
There are many shades to consider when designing a white stone tile fireplace. The smooth tiles surrounding this hearth have an oyster-colored appearance that is a soothing blend of beige, white, and touches of gray. This creates a feeling of opulence, as does the smooth surface of the rectangular tiles. Brass and bronze are natural choices for accent colors that pair well with cream or off-white tiles, which is why the oil-brushed bronze light fixture is such a fantastic choice for this room.
3. White Natural Stone Fireplace
There's nothing quite like a white natural stone fireplace! Bold and breathtaking, the visual strength, stature, and texture of this fireplace calls to mind the iconic hearths found in established lodges and ski chalets. Notice how a simple wood beam serves as the mantle, and neutral colors – white walls and white oak banisters – complement the various highlights found in the natural stone veneers.
4. Boho White and Black Fireplace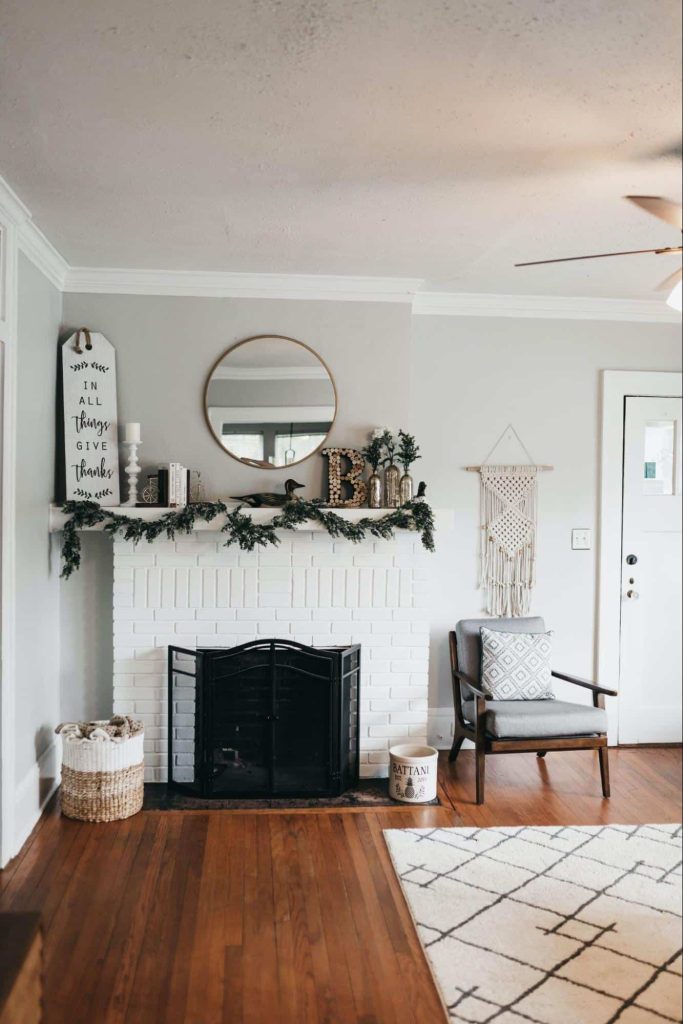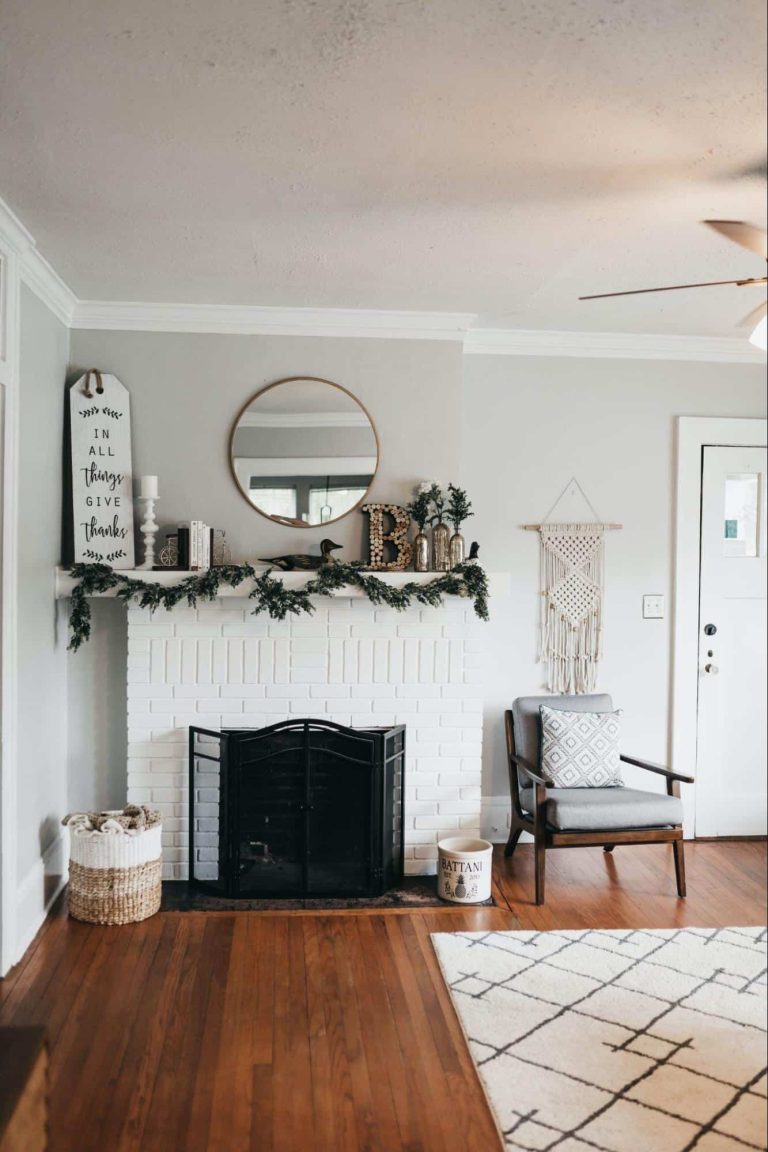 Black and white decor adds a timeless take on a cozy homestead. Complemented with natural wood accents and touches of boho decor – including the woven wall hanging and log basket – this white stone fireplace is one of the easiest looks to achieve. A black fire screen adds a stylized accent to contrast with the white bricks.
5. Rough Brick with Matte Finish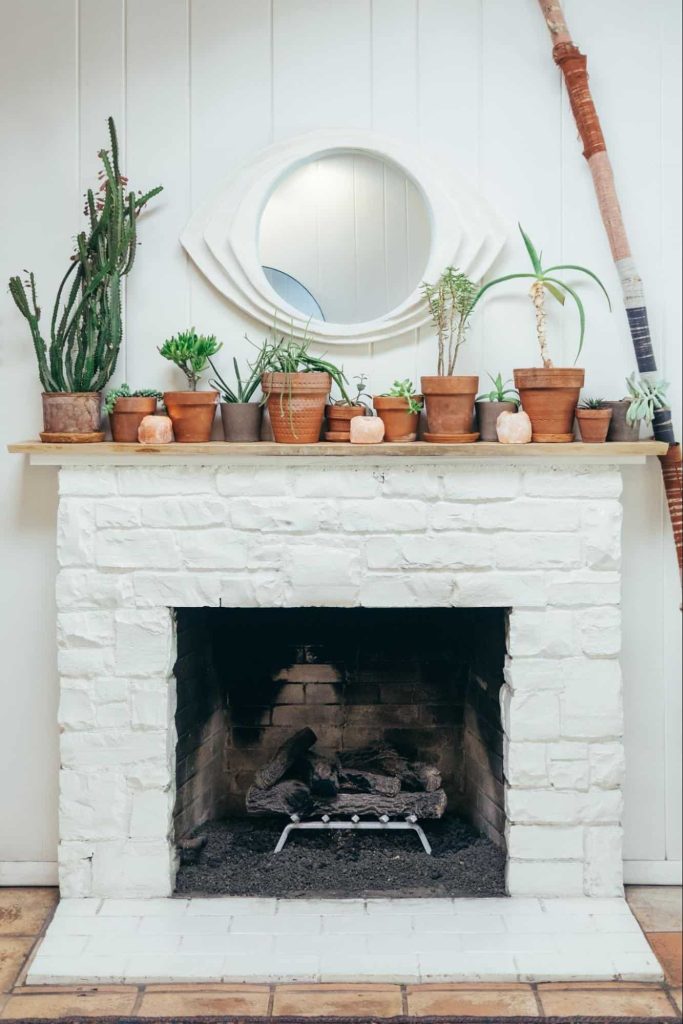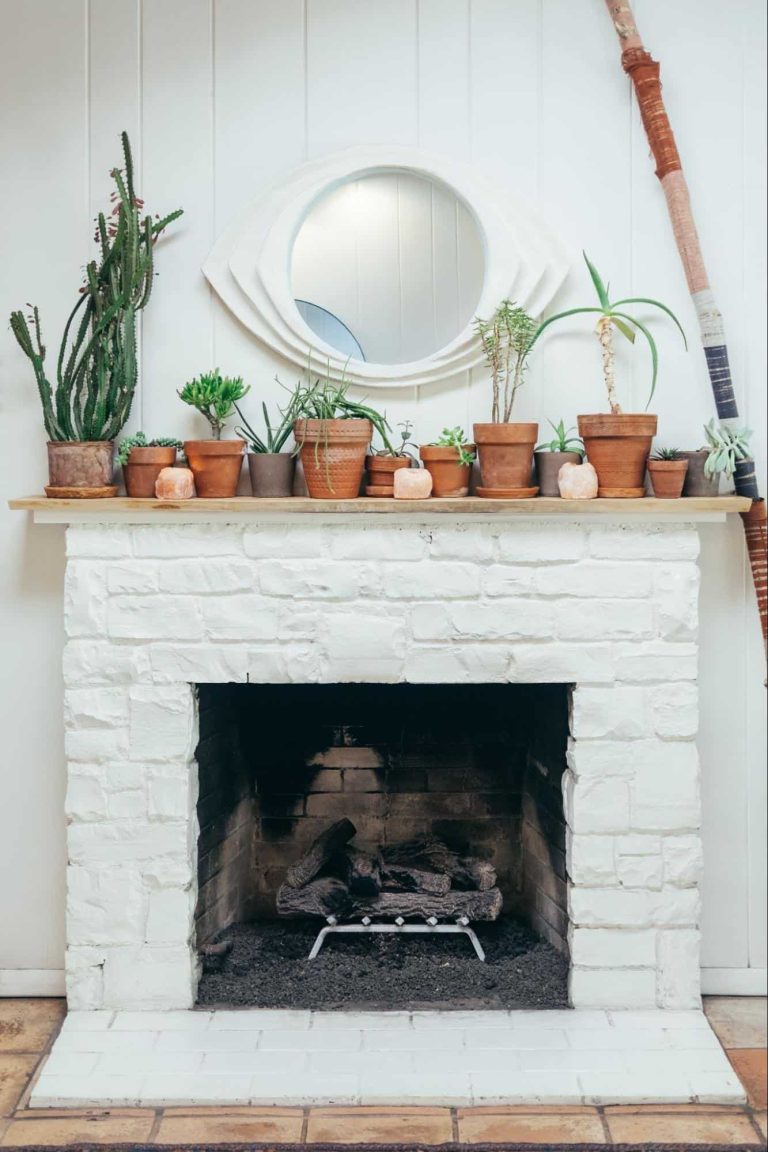 If you're working with rough brick and want to create a more comfortable ambiance, choosing a white paint with a matte finish can help soften the look. This subdued appearance paves the way for using raw materials as accent pieces – like the clay pots and leather-bound stick decor – which only enhances the relaxed aesthetic of the room.
Stoneyard® Veneers – An Elegant Solution for Interior Design
Crafting a white stone fireplace doesn't have to involve major demolition and expensive masonry work. Stoneyard® has the modern materials to make the renovation process simple!
Stoneyard® veneers are beautiful pieces that adhere directly to the structure's wall – and they don't even require a load bearing foundation. Weighing less than 15 pounds per square foot, Stoneyard® veneers allow you to create gorgeous indoor aesthetics much easier, and with beautiful options like ledgestone, mosaic, and round stones, you can get creative and craft a unique fireplace that fits your vision perfectly.
View Everest, Cottage and Ashland white, cream and blue stone veneer.
Ready to spice up your living space? Contact Stoneyard® today and an experienced member of our team will answer your questions and help you find the perfect material for your project.
---
More posts
Contact us if you have questions about Stoneyard products