Stone front houses have long been admired for their timeless elegance and durability. As a popular choice among mason contractors, architects, and individuals building high-end homes, stone veneer siding offers an excellent way to achieve the look of a natural stone facade without the excessive cost or weight. In this blog post, we will explore the many facets of utilizing stone veneers to enhance your home's exterior.
We'll discuss how to select the perfect stone profile that complements your architectural style while providing lasting beauty. You'll discover sample scenes that can help you visualize how different types of real stones might appear on your existing home or new construction project. Additionally, we will explore the wide variety of shapes and colors available.
Finally, learn about quality stone veneer products that are not only visually stunning but also installed properly for maximum longevity. Elevate your home's curb appeal with a gorgeous stone front house – read on to get started!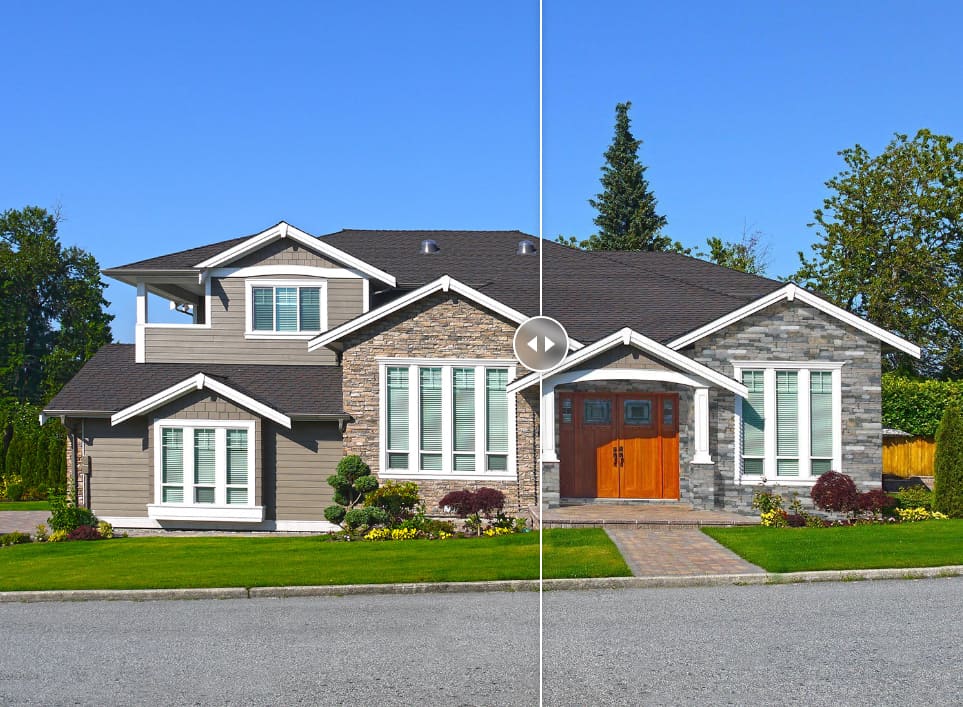 Transform Your Home with Stone Veneer
Revamp your home's exterior with the timeless, elegant look of natural stone veneer siding to add value and durability. Try stone veneer siding for a natural, elegant look that adds value to your property.
Natural stone veneer is a great choice over manufactured alternatives because it's durable, low-maintenance, and timeless.
Durability: Real stone is resistant to weather conditions like rain, snow, wind, and sunlight.
Maintenance: Once installed properly, natural stone veneer is virtually maintenance-free.
Aesthetics: The unique texture and color variations of real stone create an unmatched visual appeal.
Using our visualizer tool, you can see how stone veneer will look on your property before committing fully to it. Mask the desired area, add selected options like Boston Blend Ledgestone, and make informed decisions about what works best for your home.
Choose the Perfect Stone Profile
Visualizer tools are a game-changer when it comes to selecting the ideal stone veneer siding for your home.
Upload a photo of your home's exterior or choose from sample scenes to experiment with different stone sidings.
Round: Add rustic charm and character to your home.
Mosaic: A versatile option with an eclectic mix of shapes and sizes.
Ledgestone: Known for its horizontal lines and clean look – modern yet timeless.
Ashlar: Uniformity in size with some variation in texture for symmetry in design.
Square & Rectangular: Create striking patterns with geometrically shaped stones – perfect for making a bold statement.
Choose from various shapes and colors of natural stone veneer to complement your home's design and enhance its natural beauty.
Don't forget to consider factors like pointing mortar color and mortar joint size, as they can significantly impact the overall look of your stone sidings when installed properly.
Sample Scenes to Help You Visualize
Designing your home's exterior with stone veneer siding can be exciting, but it's hard to visualize the home's exterior final result.
Stoneyard offers a visualizer tool that lets you experiment with different natural stone veneer profiles and colors on sample scenes or even upload your own photo.
Choose from various shapes such as round, mosaic, ledgestone, ashlar, square & rectangular shapes in multiple color options.
Round: Popular for adding texture and depth to walls and columns.
Mosaic: An excellent choice for those who want a more artistic appearance with irregular patterns.
Ledgestone: Known for its horizontal lines and tight-fitting pieces which provide clean lines suitable for both modern and traditional designs.
Ashlar: Provides an elegant touch by featuring cut stones arranged in regular patterns creating a timeless appeal.
Square & Rectangular: Create a classic look that works well on any style of architecture while providing durability through their uniform shape.
The visualizer tool is designed to make selecting the right stone veneer easy so that you're confident about enhancing your front door area or other parts of your house.
Variety of Shapes & Colors Available
Stone veneer siding offers a vast array of shapes and colors to suit any design preference, making it a great choice for your home's exterior.
Choose from classic round, unique mosaic, sleek ledgestone, versatile square & rectangular, or traditional ashlar profiles.
Stoneyard offers an extensive range of colors that capture the natural beauty of real stone, from warm earth tones to cool grays and even vibrant hues.
Visualize how different options will look on your home with our interactive visualizer tool, which allows you to upload a photo of your house or choose from sample scenes provided by us.
Mask the stone area(s), add your chosen stone profile and color, and admire the transformation.
Quality Natural Stone Veneer
When it comes to choosing the perfect stone veneer for your home, quality should be at the top of your list.
At Stoneyard.com, we offer a wide range of high-quality natural stone veneers that are visually stunning, durable, and long-lasting.
Boston Blend Stone Veneer: An excellent choice for any home's exterior, the Boston Blend stone veneer is a mix of colors and textures that adds a unique and timeless look.
Natural Beauty: Real stone's subtle variations in color, texture, and pattern make each piece truly one-of-a-kind.
Durability: Properly installed natural stone veneers can withstand harsh weather conditions without fading or deteriorating over time.
Eco-Friendly: Real stones are eco-friendly options sourced directly from nature itself, unlike some manufactured alternatives that may contain harmful chemicals.
Elevate your home's curb appeal or create a stunning new build with lasting impact by investing in quality natural stone veneer siding like those offered by Stoneyard.
With their undeniable allure and durability combined with proper installation techniques, you'll have peace of mind knowing your home will look beautiful for years to come.
Elevate Your Home's Curb Appeal
Upgrade your home's exterior with the natural beauty of real stone veneer siding – a great choice for homeowners looking to enhance their curb appeal.
Durable: Stone veneers are long-lasting when installed properly with portland cement.
Low Maintenance: Minimal upkeep required compared to wood or vinyl siding.
Eco-Friendly: Real stone is environmentally friendly and does not release harmful chemicals during production or installation.
With various shapes, colors, and profiles available, you can easily find the perfect combination to complement your existing home style or create a stunning new look for your front door area.
Use a visualizer tool like Stoneyard's online application to see how different types of stone would look on your home's facade.
Don't let cost hold you back – there are plenty of affordable options available without compromising quality. Start exploring today.
Get Started Now.
Ready to transform your home's exterior with stunning natural stone veneer? Begin your journey and start the process of revamping your residence's outside with beautiful natural stone veneer today.
Mask Stone Area(s): Outline the areas where you want to install the stone veneer siding using a visualizer tool or masking tape.
Add Stone: Choose from a wide variety of shapes, colors, and styles available at Stoneyard.com, including their popular Boston Blend stone veneer.
Hire Professionals: Ensure proper installation by hiring experienced mason contractors who specialize in installing natural stone veneers.
Maintain Your Investment: Preserve the excellent condition of your new front door area by regularly cleaning off dirt and debris with mild soap mixed with water, avoiding harsh chemicals that can damage portland cement used in mortar joints.
Elevate your home's curb appeal by choosing high-quality natural stone veneer siding from Stoneyard today. With endless design possibilities available through their online visualizer tool, there has never been a better time than now to enhance both aesthetics and value of any existing home or new construction project.
FAQs in Relation to Stone Front House
What is stone on front of house called?
The stone used on the front of a house is typically referred to as stone veneer. Stone veneer is a thin layer of natural or manufactured stone that's applied to the exterior surface, giving the appearance and texture of real stone without the weight and cost associated with full-sized stones.
What are the disadvantages of a stone house?
Some potential disadvantages of a stone house include higher initial costs compared to other materials, increased labor requirements for installation, potential moisture issues if not properly sealed, limited insulation properties requiring additional insulation measures, and possible challenges in making future modifications or repairs. However, many homeowners find these drawbacks outweighed by the benefits.
What are the benefits of a stone house?
Durability: Stone houses can withstand harsh weather conditions and last for centuries.
Maintenance: Minimal maintenance required due to its resistance against rotting or insect damage.
Aesthetics: Natural beauty enhances curb appeal and adds value to your property.
Eco-friendly: Natural stones have lower environmental impact than synthetic materials.
What is the best stone for the front of a house?
The best choice depends on personal preferences and local availability. Some popular options include limestone, sandstone, granite, ledger panels, thin-cut natural stones, and cultured stone. Consider factors such as color, texture, and style when selecting the perfect stone for your home's exterior.
Not only will it add a timeless and elegant touch, but it will also increase your home's curb appeal.
Choose from a variety of shapes and colors to find the perfect profile for your home, and consider using natural stone veneer for a high-quality and long-lasting option.
Visualize different profiles with sample scenes and consult with mason contractors or architects who specialize in building high-end homes to get started on your transformation today.
More posts
Contact us if you have questions about Stoneyard products