Rich in history and culture, Buffalo, New York has a particular energy that can be seen throughout the architectural landscape. Whether renovating a historic home or starting from the ground up, keeping that unique heritage alive with intentional exterior and interior design choices can lead to immense benefits.
In Buffalo, stone veneer is a great option for fusing the architectural legacy of the city with modern fabrication techniques that can yield better durability, easier installation, and more. Plus, with direct delivery and fast shipping available, choosing a local provider is the best way to go when shopping for stone veneer in Buffalo.
Geography and History Shape Building Character in Buffalo
From its origins as the primary inland shipping port and railway hub to its more modern role as a major tourist destination and springboard for exploring Niagara Falls, Buffalo's identity is truly rooted in its unique landscape and geographical position. Set at the eastern end of Lake Erie, at the head of the Niagara River and on the border with Canada, it is considered a natural crossroads.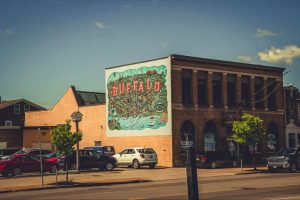 Historically, it has seen waves of cultural influence, from its status as Iroquois land to the settlement of French explorers to the rapid industrial development as the city we recognize today. All of these influences – infused with the natural surroundings of the lake, river, and landscape – have helped shape the identity of Buffalo and influenced the architectural character of the region.
A plethora of architectural styles – including Chateauesque, Gothic Revival, Art Deco and Italianate – can be found in Buffalo. Drawing off the surrounding landscape and natural setting, it's no surprise that stone plays a major role in bringing character to these buildings. From commercial structures to residential homes, natural materials like stone help connect buildings to the unique identity of the city.
Stone Veneer in Buffalo: the Modern Solution
Traditional stone and masonry projects can be expensive, time-consuming, and require more manpower – not to mention the strain on natural resources. For these reasons and many more, stone veneer is now considered the preferred solution for outfitting buildings with natural stone ornamentation.
Much lighter and easier to work with, stone veneer is absolutely ideal for interior projects, like fireplace settings and accent walls. One of the most obvious benefits of using stone veneer in interiors is the lightweight quality of the material. Stone veneers don't put nearly as much weight on load-bearing walls as traditional, full stone out fittings.
Stone veneer is not restricted to interior remodels. Equipped to handle the harsh winters that are common in Buffalo, modern stone veneer products are well-suited for the outdoors. Whether used to cover the entire exterior or used to add ornamentation to the porch, entryway, or smokestack, stone veneer is an affordable way to craft the exterior in a way that feels authentic to the Buffalo landscape.
Stoneyard® – Your Best Source for Authentic Stone Veneer in Buffalo, New York
Buffalo has such a strong visual identity that's apparent in the architecture, so it only makes sense that the stone veneer should be sourced locally. Relying on stones from outside the region could compromise the authenticity of the structure. Stoneyard® is based locally in Massachusetts, and they only use natural stone from the Northeast. This ensures that their stone veneer products retain an authentic look that simply feels right for buildings in Buffalo.
Another advantage of buying from Stoneyard® is the superfast delivery time. Since their home base is in Massachusetts, getting the natural stone veneer shipped safely to Buffalo, only takes a few days. Compare that with other manufacturers that may need several weeks – or even months – to get the materials to your job site.
Beyond convenience, Stoneyard® is simply the best choice for stone veneer in Buffalo, because of the sheer quality of their products. Carefully crafted to express exceptional beauty that requires little maintenance, Stoneyard®'s products can add a pristine aesthetic quality to your building.
Stoneyard®'s thin stone veneer is crafted from quarried and reclaimed natural stone, so it has that authentic character that simply can't be imitated in a mass-produced setting. The stones are carefully cut down, so the veneer is only 1-inch thick, and weighs less than 14 pounds per square foot. This completely modernizes the installation process, which makes it easier to install – and easier to get jobs done in a timely manner.
The stylistic variety that Stoneyard® offers is unmatched. From mosaic cut to flagstone to rigid square and rectangular layouts, the compositional diversity really provides a great variety of styles and stone shapes for builders to choose from.
In addition to shape and texture, Stoneyard® also provides an exceptional selection of color profiles to explore. Whether you're looking for a steely gray stone with natural highlights or a variegated stone veneer with a combination of browns and reds, the color selection is fantastic.
Ready to start designing your stone veneer project in Buffalo, NY? Stoneyard® can help! Contact our team today, and we will help you find the perfect material for your project.
More posts
Contact us if you have questions about Stoneyard products