Outdoor kitchens are an easy way to add luxury to your home along with practical benefits, like outdoor entertaining and fresh air. Plus, there are so many stone outdoor kitchen ideas available that make it easy to craft the perfect style that speaks to your design preferences and blends with the rest of your exterior.
Take a look at some outdoor stone kitchen ideas before you start building. These 10 designs feature a range of styles – all with a rustic feel that elevates the outdoor ambiance.
Why You Need an Outdoor Kitchen ASAP
Though noticeably striking, outdoor stone kitchen ideas are not just for luxury residences. Everyone can benefit from an outdoor kitchen space – whether entertaining guests or simply living the good life and spending more mealtimes outside. 
Here are 3 immediate benefits of building a stone veneer outdoor kitchen:
Cooking 'En Plein Air' – Crafting cuisines outside is a lifestyle! It really makes meal prep feel more like an artform. 
Outdoor Entertaining at Its Finest – Garden parties are better when the cook can stay involved! Having the kitchen space outdoors helps connect guests and encourages a healthier atmosphere with natural surroundings.
Customizable to Fit Your Style – Outdoor kitchen stone ideas are vast. From the color of the stone to the texture and layout, there are so many ways to modify the design and create the perfect style that suits your home – and your personality!
Take a look at 10 outdoor kitchen ideas, all of which craft a unique ambiance for enjoying the outdoors with stone veneer from Stoneyard®.
10 Stunning Design Ideas for Crafting and Outdoor Kitchen with Stone Veneer

1. Functional Kitchen Corner
This stone outdoor kitchen utilizes a small space to maximize practicality. A corner segment extends from the exterior wall to create a tidy, organized area for barbecuing and refilling drinks. The Boston Blend stone ledge is a rustic style that works well with the smooth gray patio stone.
2. Create Levels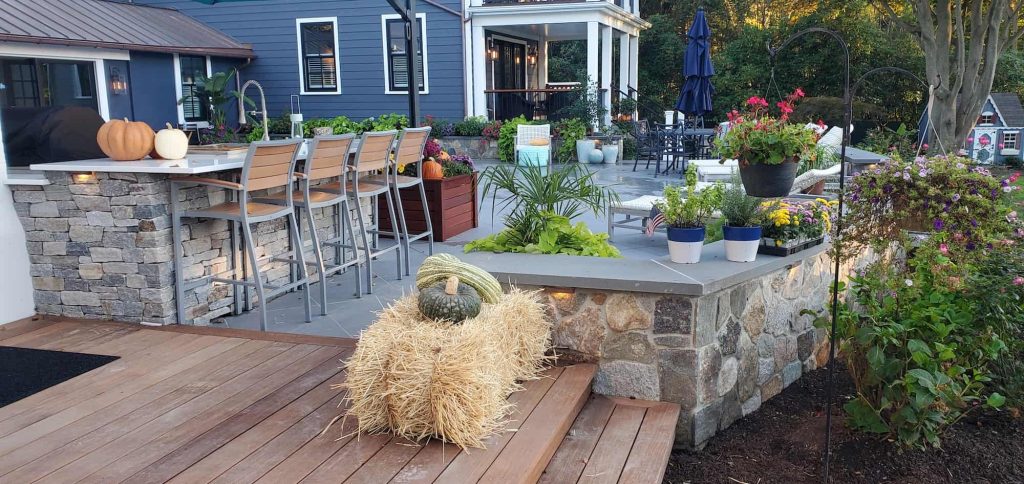 Two distinct walls feature the same color of stone veneer to create a harmonious style, yet they aren't exactly identical. Notice how the lower level wall adjacent to the garden features a mosaic arrangement with rounded shapes that soften the appearance and create a beautiful transition to the natural surroundings.
3. Incorporate a Brick Pizza Oven
Many outdoor kitchen stone ideas incorporate a brick pizza oven alongside a fireplace, that blends old world charm with a modern feel. The pale color of the stone veneer contrasts beautifully with the red brick, which calls attention to the purpose of the design and creates a great ambiance for entertaining family and friends.
4. Clean and Streamlined BBQ Space
Keep it simple by focusing on the barbecue pit and meal prep space. The gray ledge stone is reminiscent of classic lodge designs, for a rustic feel that really connects guests to the great outdoors. This fair-colored stone also matches beautifully with the stainless steel appliances, while the generous countertop space provides plenty of room for setting out ingredients, utensils, appetizers, and more.
5. Mosaic Stone
Mosaic stone brings natural beauty by highlighting the rounded shapes that are often found in the great outdoors – as seen in the rolling hills from the view of this outdoor stone veneer kitchen.
6. Mixed Material Design
Wood, tile, wrought iron, marble – all of these mix and match elements throughout the design – pair beautifully with stone. This outdoor kitchen features a stone veneer with variegated color to play on all the various visual elements of the space.
7. Monochromatic Kitchen
On the other hand, sticking with a solid color can be a great choice, too! This outdoor kitchen leans into a dark gray palette and allows the set-in stone to contribute visual texture.
8. Compact Accent Design
Even a single appliance can jazz up the outdoor kitchen space. This compact wood-burning oven features gorgeous ledge stone in a variety of colors, to connect the design with natural elements that feel both rustic and mature.
9. Brown and Auburn Kitchen Palette
Variations on gray aren't the only options available with stone veneer outdoor kitchen styles. This example shows how a red or brown tone can add dynamic color and beauty to the outdoor kitchen.
10. Ashlar Stone
Ashlar stone has an intentionally rough look to it, which creates exceptional texture and profound character. This outdoor kitchen showcases the beauty of this unique stone veneer design and demonstrates how easy it is to coordinate with stainless steel appliances, granite countertops, and brick patio pavers.
Discover the Best in Stone Veneer with Stoneyard®
Take one of these outdoor stone kitchen ideas and create your own entertaining space with Stoneyard®! Contact out team today and we will help you find the perfect material for your project.
More posts
Contact us if you have questions about Stoneyard products